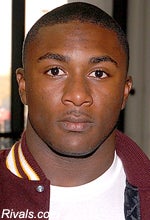 Billey Joe Johnson, a 17-year-old high school running back from Mississippi, died of a self-inflicted gun shot wound during a routine traffic stop yesterday. The junior tailback from George County High School was one of the top-rated prospects in the country and reportedly had scholarship offers from half the SEC.
A sheriff's deputy pulled Johnson over around 6:30 a.m. on Monday morning and when he returned to the patrol car to do a license check, Johnson apparently took out a shotgun and shot himself—although it is still unclear if was an accident or suicide. Johnson rushed for over 4,000 in just three seasons and his team lost the state championship game last year to the team that ended their 89-game winning streak in the finals of this season.
The investigation is underway and I'd ask you to resist the urge to make a Plaxico joke, but who knows how long that will last.
Mississippi Football Star Shoots Self During Traffic Stop [Fox News]
TEEN'S DEATH STUNS COAST [Gulf Live]
Photo via Rivals