We're doing a season-long NFL roundtable with our friends at Slate. Check back here each week as a rotating cast of football watchers discusses the weekend's key plays, coaching decisions, and traumatic brain injuries.
« Previous entry | Next entry »
From: Josh Levin
To: Brian Burke, Tommy Craggs
Brian, those "identity crisis" headlines will be a part of our lives for a good long time. As you wrote, even in this era when running the ball makes little sense on a play-to-play basis, there are still a bunch of situations—in the red zone, on third-and-short, in the waning minutes—when handing the ball off is a necessity. Not coincidentally, those are the situations that, announcers and beat writers tell us, reveal a team's "toughness" and "desire." (On Monday night, Jon Gruden all but proposed to the Patriots' BenJarvus Green-Ellis after a tackle-breaking 12-yard run.) If passing could so easily be portrayed as a test of will, I'm sure that the Ravens' supposed identity crisis would involve Ray Rice stealing valuable pass attempts from Joe Flacco.
G/O Media may get a commission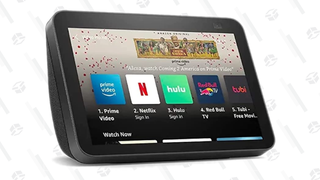 If there's little incentive to run in today's NFL, is there anything the league could or should do to make running the ball more enticing? The easiest way to restore balance to the game would be to make passing less desirable by rolling back the prohibitions against contact in the defensive backfield. Nobody wants to do that, though. Another approach would be to make chop blocks and holding legal for offensive linemen—that would be fascinating to watch but very gruesome. Anyone have any more radical ideas? How about making it illegal to throw the ball three times in a row? Or perhaps Commissioner Roger Goodell could decree that Tim Tebow will henceforth play quarterback for both teams in every NFL game. Balance restored!
I concede that the above paragraph may be stupid, but it can't possibly be as dumb as this item from Peter King's "Monday Morning Quarterback" column, which I will quote in full:
The toll of the lockout. As one club executive said to me this week: "The lockout has certainly had an impact on this season, but no one can describe what it is. It's just added more confusion than ever. Why is San Francisco good, with a new coaching staff? Why is Cincinnati good, with a new offense and a rookie quarterback playing? Why is there no consistency? The lockout's just made the league more confusing than ever.''
You wrote back in Week 5, Brian, that it was "lazy conjecture" to argue that the lockout had given NFL offenses an advantage over defenses. Here, the laziness has overcome the urge to even make an identifiable conjecture. You could replace lockout with European debt crisis, macaroni and cheese, or floozlenorf and the nameless club executive's ruminations would make just as much sense. San Francisco has been good despite the lockout. Why didn't the lockout keep San Francisco from being good? The lockout was bad for consistency. But aren't the 49ers consistent? Uh … that crazy football sure is confusing!
I just watched the last two 49ers games on NFL Rewind, and their success seemed pretty straightforward. San Francisco plodded along with a dink-and-dunk offense—off-tackle runs, screens, 10-yard outs, passes to the tight end—that limits mistakes by refusing to do anything a football fan might consider exciting. On defense, the 49ers forced five turnovers in their 23-7 win against the Cardinals on Sunday, padding their NFL-leading plus-17 takeaway-giveaway margin. That is the key to a balanced offense: If the other team never has the ball, you can pound it up the middle for 3.3 yards per carry until the clock runs out.
Last year, San Francisco's offense coughed up one more turnover than its defense gathered in. This year's superior turnover margin has something to do with skill—new cornerback Carlos Rogers has five interceptions—and a lot to do with luck-they've recovered 11 of 15 opposition fumbles this year compared to 7 of 14 last year, an improvement (at least in the numerator) that is more likely due to chance than to coach Jim Harbaugh's never-before-seen fumble-scooping techniques.
The 49ers also weren't as terrible as they looked last year. Yes, they finished 6-10, but they lost four games by a combined 11 points—three of them to playoff teams—while just one of their wins came by less than eight points. This year, they've won five games by one score or less and lost just one close one. In five of those one-score games, David Akers—another offseason acquisition—kicked a 50-plus-yard field goal. Akers, who is one of four NFL kickers to make five 50-yarders this season, hasn't missed a long kick this season. (The league average on 50-yard boots in 2011 is 68 percent.)
So, the 49ers added a few good players to an already average team, started forcing turnovers while limiting their own mistakes, and have made a bunch of long field goals in close games. If that doesn't explain their 9-1 record, then maybe Jim Harbaugh steals the life force of other coaches via aggressive handshaking. Plus, the "undisclosed draft choice" the 49ers acquired this offseason for Taylor Mays might have been a bag of magic beans that David Akers now stores in his left shoe. What am I missing, Tommy?
Josh Levin is Slate's executive editor. You can e-mail him at sportsnut@slate.com, visit his website, and follow him on Twitter.