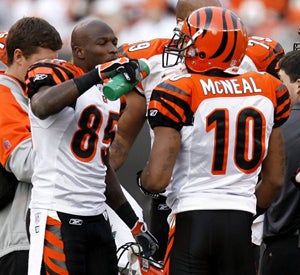 Can you believe it has only been a month since a Cincinnati Bengal was arrested? Seriously, it's almost as like they were winning and no one had noticed!
Well, welcome back, Bengals, 'cause you're in the jailhouse now. This week's happy fun time misdemeanor artisan is backup wide receiver Reggie McNeil, who was arrested last night for a brief lapse in judgment.
Bengals wide-receiver Reggie McNeal has been arrested and charged with resisting arrest. It happened overnight in Houston, Texas. Police say McNeal became irate when he couldn't get into a club that was closed. He allegedly hit an officer in the chest.
We love that the arrest was in Houston, thousands of miles away from Cincinnati, where the Bengals played on Thursday. This is why the Bengals shouldn't be allowed to play on Thursdays; too much free time! You're really just asking for trouble.
Reggie McNeal Arrested [The Fanhouse]
Bengals Player Arrested For Resisting Arrest [WCPO]