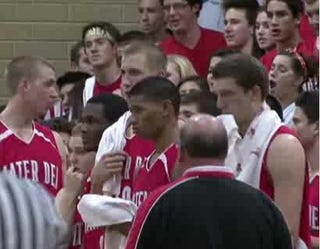 In case the earlier item about racist remarks on the radio isn't your thing, how about fans yelling monkey noises at a black high school basketball player?
It happened in Anaheim, in a game this past Friday between Mater Dei High — the top-ranked boys team in the nation — and host Servite, a Catholic boys school. Two starting Mater Dei players, Gary Franklin and Tyler Lamb, had racist taunts yelled at them from the Servite "Pit Crew," a student cheering section.
From the Orange County Register:
Brian Wojtkiewicz, a longtime Mater Dei supporter and parent of Mater Dei students, said he was at the game and heard the sounds. "There were monkey calls when Franklin had the ball," Wojtkiewicz said. "'Who's your daddy' when Lamb had the ball, that sort of thing."

The monkey sounds can be heard on a short video on ocvarsity.com when Franklin is dribbling the ball.
Yeah, wow. Kind of hard to miss. That's unfortunate.
Servite president Peter Bowen said that his school's administration has met wit the student body to discuss the incident, and is also planning an apology to Mater Dei. Meanwhile, Spanish Formula One fans wonder, what's the big deal?
Update: Racial Taunts Directed At Mater Dei Players (Video) [Orange County Register]