For most England-focused soccer fans watching yesterday's Manchester City-Monaco Champions League match, seeing Radamel Falcao's name in the starting lineup probably elicited more surprised chuckles than brows furrowed in worry or anticipation of what the striker might do. Oh wow, Falcao—that washed up has-been who was supposedly so good, then came to the Premier League and embarrassed himself—is still playing, and in big games, too? Monaco must not have gotten the memo about how he sucks now!
While Falcao couldn't quite fire Monaco to the huge upset they threatened to pull off, his two goals and all around domination of City's penalty box was no fluke. Scoring goals, and doing so with ruthless efficiency, is all he's been doing this year for a belligerently attacking Monaco team. It's been quite the second act of a career that appeared all but finished just a season ago.
There are a few things that are easy to forget about Falcao in light of his long and vacillating career. One is that he legitimately was one of the very best strikers in all of Europe in his prime. Those years he spent at Porto and Atlético Madrid, scoring 30-something goals each and every season in all competitions truly was as remarkable a stretch as the stats would have you believe.
It takes some serious, blindingly evident talent to earn acclaim as a top-five player at your position when making your name away from the continent's superclubs. Falcao scored a ton of goals of every type, in every situation, and in any tactical set-up he found himself in. Despite what the dumb, most provincial set of Premier League fans may contend, putting up numbers like that in Portugal and Spain, then struggling to do much of anything in England (in the aftermath, let's not for get, of a debilitating knee injury), doesn't invalidate everything that came before.
What's also easy to forget is that though it seems like he's been around forever, and been perceived as washed up and broken down for a few years now, Falcao's only just turned 31. Thus it shouldn't come as a total shock that he has rebounded from looking awful in England for two seasons to looking great back in Monaco this year.
G/O Media may get a commission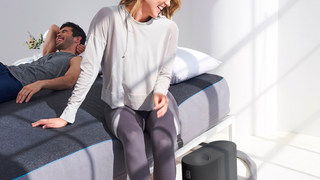 Eight Sleep Pod Cover
After scoring just five goals in 41 appearances in all competitions during his two season-long loan spells at Manchester United and Chelsea from 2014 to 2016, Falcao has now hit 24 goals in 29 games in all competitions for Monaco. And while this shouldn't be such a shock, it's still damn impressive that a player who seemed quite close to calling an end to his time at the game's highest levels by retiring to MLS has completely reversed the course of his career and once again proven himself to be an outstanding player.
Maybe the craziest thing about Falcao's revitalization isn't what he's done this season—score a bunch—but how he's done it. The Colombian has been ridiculously efficient.
Falcao has 16 goals in Ligue 1, tied for the third-most in the league. He's done so on only 49 shots, which ranks him 16th in that category. That means that Falcao is hitting the back of the net basically once every three shots. That is, as the stat suggests, extremely good.
Falcao's numbers in this are a little padded by the four penalties he's scored on four attempts, but even subtracting those out, his 4.10 shots per goal rate is excellent. By comparison, here are the overall goal totals and shots per goal numbers, with and without penalty attempts and goals, for the other top five Ligue 1 goalscorers:
Edinson Cavani (25 total goals, 6 penalties): 3.52 shots per goal; w/o penalties: 4.3

Alexandre Lacazzette (21 total goals, 10 penalties): 3.24 shots per goal; w/o penalties: 5.18

Bafétimbi Gomis (16 total goals, 3 penalties): 4.25 shots per goal; w/o penalties: 5.00

Alassane Pléa (11 total goals, 1 penalty): 6.64 shots per goal; w/o penalties: 7.1

Falcao really is on fire.
Seeing these outlandish numbers by a player many thought was dead, it would be easy to advance the argument that Falcao isn't actually playing as well as his numbers might suggest, that this comeback season is the product of luck, and that, eventually, his finishing will cool down to more human rates and he'll be exposed yet again as an aging poacher whose physical senescence means he can't do what he once did. There's probably some truth to that—it's not terribly likely that he'll continue on beating keepers with one of every three shots for the next couple seasons—but you also have to credit what he is doing on the pitch to score the goals, and the way this Monaco team is built to get the best out of him.
Yesterday's game was a great example of how and why he's been so good. Falcao took five shots, four of which were on target, two of which he scored, and one of which was that botched penalty. (And let's take a break from all these words to watch that impeccable chip again.)
All the good Falcao did in that match came from both him and the team playing in a way that best suits his abilities. His first goal involved him expertly reading the defense, standing between and right on the edge of the back line, and getting himself into perfect position to head home an early Fabinho cross. The penalty was one that he won himself after sneaking around Nicolás Otamendi and being right where he needed to be to latch onto another cross before Otamendi fouled him. His second goal came from a long ball he rushed onto before powering his way into the heart of the box and muscling past John Stones, and then arcing the ball beautifully over the keeper. Those are chances borne of crosses, movement, strength, and savvy.
As long as Falcao continues to bring his movement, muscle, and intelligence to the table, and Monaco feed him a steady diet of crosses (the team averages the second most crosses in Ligue 1) and long balls—all of which he takes in the acres of space that are opened up for him thanks to the blistering runs of Thomas Lemar and Kylian Mbappé—then there's no reason to think the revived striker can't keep feasting.
Though Falcao has had a great career, it's also been a somewhat disappointing one—through absolutely no fault of his own. This is mostly because of the third-party ownership situation that, at the height of his powers, took him from Atlético to a strange and unknown project in Monaco. Not long after getting there, he suffered a major knee injury at the same time that the club itself altered course and went away from spending outrageous fees to collect stars, instead favoring a more frugal, youth-centric direction.
Thus, once Falcao finally got the move to the huge club in England his talents had long deserved, his prime had past him by and injuries seemed to eliminate the possibility a post-prime stretch that would at least echo what came before. This led to the ridicule he received over the last couple years in England; so many people who'd long heard about but rarely personally witnessed the mighty Falcao then wrongly assumed that he never really was the player he had been made out to be. And so Falcao returned to the relatively inscrutable club in Monaco, earning a huge salary the team didn't really want to pay him, but unable to find any suitor that would pony up for his services in hopes that he might yet still have goals left in those legs.
Luckily, El Tigre fought back from the brink. He's now healthy and happy and once again starring the way he always has in this state. Hopefully the back end of Falcao's career offers more goals, and more top-class performances like yesterday, so that everyone will know once and for all that he was and is the truth.