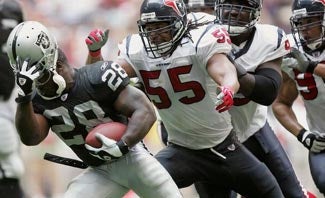 It's not easy being a Raiders fan. First off: What goes with black? Seriously! It's also difficult to find time to cheer, what with all the drinking of infant's blood. And worst off, the Raiders' lousy game with the Texans this Sunday happens to be at the same time as The Most Important Battle Between Good And Evil Since The Fight For ImaginationLand. So some Raiders fans are taking matters into their own hands: They're begging their fellow boosters not to go to the game.
See, if the game isn't a sellout and is therefore blacked out, Oakland and San Francisco residents can actually watch the Patriots-Colts game.
This is one of the rare times that a substantial portion of local NFL fans may be rooting for a Raiders blackout. (The 49ers have a 10 a.m. PST kickoff in Atlanta.) Barring a deadline extension by the NFL, the Raiders have until 1:15 p.m. Thursday to sell out the game. Otherwise, the local telecast will fall into its own Black Hole.
Frankly, we don't see why this is a problem; we didn't know there 50,000 people who would rather watch Raiders-Texans over the Colts-Patriots anyway, let alone enough who would want to suffer through the experience in person. Even if there is a baby sacrifice.
Is Blackout A Boon On Sunday [San Francisco Chronicle]