Steelers running back Le'Veon Bell, who's currently under the franchise tag and wants a longer contract with more security, is willing to extend his holdout into the regular season, but somehow he, and not the side with all the money and all the leverage, is getting shit from his teammates.
Offensive linemen Ramon Foster and Maurkice Pouncey—who are also two of the three NFLPA reps for the Steelers—remarked on the situation Wednesday with the kind of incoherent irritation that'd belong in the ESPN comment section, if it still existed. From the Pittsburgh Post-Gazette:
"What do you do?" wondered veteran guard Ramon Foster. "Here's a guy who doesn't give a damn, I guess, so we'll treat it as such. I just hate it came to this. He's making seven times what I made, twice as much as Al [Villanueva] is making, and we're the guys who do it for him."

[...]

"I really thought Wednesday, trust me, I really did,'' Pouncey said. "After a couple of text messages and knowing Le'veon as a competitor who wants to be the best in the league ... but obviously he proved all of us wrong."

Pouncey and the others said they'll just move on without Bell.

"We just finally accept things at some point and you're just like, all right, if you don't want to be here, it is what it is, hold out for 10 weeks. It's totally fine with us. As a team, we're totally fine. It takes 11 guys, not one."
Again, these are Bell's teammates and union reps, and they're trying to guilt him because he wants job security and more money. They're even fucking invoking the troops. Alejandro Villanueva must get sick of his military service being thrown around in arguments, but also, he and Foster's mother's funeral have nothing to do with why Bell is holding out.
G/O Media may get a commission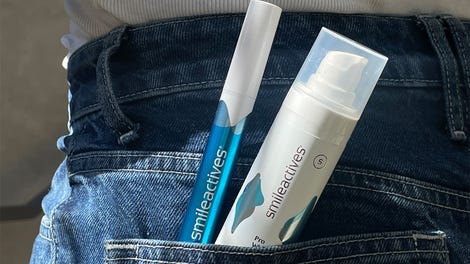 58% off
Whitening Powerhouse Pen & Gel Duo
In the past two seasons, Bell has accrued a total of 2,559 rushing yards and 1,271 receiving yards. He has definitively proven himself to be a top-level, pass-catching running back, which is rare to find in the NFL. Rams running back Todd Gurley had a monster 2017 season and in July received a fat new contract with up to $45 million in guarantees. Bell has spent four seasons under a rookie contract that totaled roughly $4 million, then one season under the franchise tag (which was $12.1 million). He has never had an opportunity to hit unrestricted free agency. Even if he gets $14.5 million, he will be grossly underpaid. Bell had made it clear from the beginning of the offseason that he very much didn't want to play under the franchise tag a second time, and the Steelers refused to budge then and still won't budge now. And the rules of the NFL are such that they don't have to.

The front office holding its line is expected, but what's baffling is why Foster and Pouncey choose to go against the side they've been selected to represent. Not only should Bell be pissed at them—so should every other Steelers player, every NFL player. These are the guys who are supposed to represent the labor against the league when the CBA expires in 2020, in which there's a possibility of a work stoppage, and they can't resist taking part in some backbiting of their teammate. Their sport's culture has effectively convinced them—and they're probably not alone—that a player should be grateful he has a job in the National Football League, and he shouldn't bother pushing back against the parts of a system (a salary cap, non-guaranteed contracts, a unilateral disciplinary system with no rhyme or reason) that keeps the owners on top.
If Foster and Pouncey look at Le'Veon Bell's salary and Alejandro Villanueva's salary and determine that Bell should be paid less instead of that both players should be paid more, they should step down as union reps. And if there are other player reps on other teams who agree with them, the NFLPA will be completely fucked in 2021.