On Monday night, WWE celebrated the 25th anniversary of its Monday Night Raw flagship television show by splitting the telecast between Barclays Center in Brooklyn and the Manhattan Center's Grand Ballroom, which was Raw's original home. Based on the limited history of pro wrestling cards from multiple venues, the general assumption—WWE provided no guidance, so this was all we had—was that the show would alternate segments between the two New York City buildings. WWE's lone previous attempt at such an event, WrestleMania 2, had a card divided into three distinct portions, each at their own arena and beamed to the others via closed circuit. Rival Jim Crockett Promotions, which debuted the concept a few months earlier at Starrcade '85, simply alternated matches between two sites.
What else would even make sense? You don't want to shaft any of the paying fans, after all, especially given that fans watching Raw 25 at the Manhattan Center were paying premium tickets prices up to $803 (more on the secondary market) to watch a regular free TV event...right?
If you're familiar with WWE, you have probably figured out by now that those fans were, in fact, shafted. The allure of the more nostalgia-tinged half of the show at the satellite venue drew in WWE's most hardcore fans—the ones visible at ringside at most of WWE's big pay-per-views—and they didn't get much for their hundreds of dollars per ticket. In addition to getting a collectible chair, the Manhattan Center fans received:
The chance to watch large portions of the Barclays Center show on TV.
A couple of short (about two minutes long), non-televised cruiserweight matches during commercial breaks.
A live Undertaker promo so incredibly cryptic that nobody was sure if he was teasing a WrestleMania match or cementing his retirement.
A visit from The Miz, who rode over from Brooklyn after winning the WWE Intercontinental Championship.
A toothless D-Generation X reunion that bookended a Balor Club vs. The Revival match.
The meta-experience of watching DX and the Balor Club watch the closing segment on those in-ballroom TVs before beating up The Miz.
That was it, and fans in attendance were chanting variations of "bullshit" and "refund" by the halfway mark as a result, though only during the commercial breaks.
The nicest thing that could be said about the Manhattan Center experience was that it was tone deaf. It's more accurate, though, to call the Manhattan Center clusterfuck what it is—the latest manifestation of WWE's generalized contempt for its fanbase. This is not a new development by any stretch. This is the same company that just had its executives go out in public and express shock that pro wrestling fans enjoy pro wrestling. But it also goes much further than that.
There have been numerous indications over the years that WWE doesn't care much about the experience of its paying fans, going back at least as far as the first WrestleMania. With pay-per-view not yet available on a widespread basis, the show was broadcast to 138 venues across the United States via satellite as a closed circuit television event. Presumably to streamline advertising resources, there would be a separate feed in each time zone, with only the east coast getting the show live, so all the hype was concentrated on Sunday, March 31st at 1:00 p.m.
G/O Media may get a commission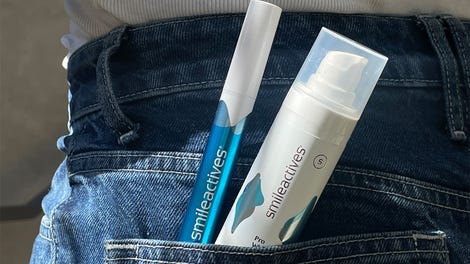 58% off
Whitening Powerhouse Pen & Gel Duo
In practice, though, a lot of details were left out. "In some cities where they are only using one location, they aren't mentioning the event will be close circuited—it's not like they are lying, just misrepresenting the truth," wrote Dave Meltzer in the March 25, 1985 issue of the Wrestling Observer. "They have at least twice announced the three-hour tape delay on the west coast as live—that's lying."
An article in the Dallas Times Herald by Sharon Egiebor after the event backed that up. "It was closed circuit and was not advertised that it was closed circuit," said ticket buyer Sandra McDonald in the Herald piece. "We knew it was going to be closed circuit after we bought the tickets. This is a ripoff." The screening at the Fair Park Coliseum in Dallas had other issues, too: There was just one screen, an issue that Coliseum director Tom Beene said they heard about from WWE just a few days in advance. The venue had been promised four screens, and the one they got measured just 45 inches diagonally.
"It looks like a projection you would have in your home," said Truman Bradshaw, a fan who addressed Egiebor as he sought a refund early in the event. And that's not even getting into the satellite transmission issues that disrupted the Dallas screening, glitching the image and rendering the first half silent. Ed Bark of the Dallas Morning News, meanwhile, reported that, per a Rainbow TicketMaster spokesperson, 400 of the 1,500 attendees sought refunds. He also spoke to WWE's Elizabeth Milne, who appeared to contradict the Coliseum's Beene by saying that "different places had different problems, but it was with their own equipment." Beene was also insistent that the fix that the technicians on hand were able to prove that the sound disappearing had nothing to do with the Coliseum's P.A. system.
WrestleMania issues have extended to being live in the stadium in more recent years, usually revolving around the visibility of the ring. At WrestleMania 28 in Miami, there were huge pillars, fashioned after palm trees, holding up the canopy that was over the ring, a tacky design element that had the unintended effect of obstructing a corner of the ring for large swaths of fans throughout Sun Life Stadium. Past outdoor stadium WrestleManias used a much less conspicuous structure, but in fairness to WWE, the "trees" weren't just a pointless decoration. With a Hell in a Cell cage match on the card, the canopy needed to be able to support the cage and allow it to be lowered over the ringside area.
The next year, however, was different, with no utilitarian need for that degree of support; MetLife stadium even told ticket buyers, including the organizer of the group buy that I participated in myself, that there would be no pillars. Instead, the week of the show, when WWE unveiled a New York-themed set, it featured a gigantic replica of the Statue of Liberty that towered over the ring...which, again, necessitated those stupid pillars. Fans who were willing to miss part of the show to wait in line at a customer service window got relocated; others who contacted WWE after the show and still had their ticket stubs got comped to an event in their home market. Which sounds generous enough until you remember that the local event wasn't WrestleMania, the show that fans build vacations around.
Last year's WrestleMania 33, while happily not obstructed by pillars, was still marred by hapless staging. Depending on where you sat, the decorative lighting on the giant wrestling ring shaped canopy rendered the big screens, the ring, or both impossible to see for large groups of fans. This resulted in chants of "TURN THE LIGHTS OFF!" and "WE CAN'T SEE!" that were caught not just by fans in the stadium, but also WWE's broadcast microphones. I'm sure WWE offered a make-good of some kind, but again, whenever I've heard of such make-goods, they've never been close to comparable to WrestleMania.
Raw isn't Wrestlemania, but the same principle runs throughout these screw-ups. Inevitably, these hiccups are preventable; and the recent ones keep happening at super expensive destination events, like WrestleMania or the Manhattan Center portion of Raw 25. The lack of care that goes into these show-killing elements would be one thing at a random house show, an average Raw or SmackDown, or even a rank and file pay-per-view event. At a destination event, with tickets going for mid three figures or more, a few house show tickets just aren't enough to make up for an experience that feels so much like a ripoff.

---
David Bixenspan is a freelance writer from Brooklyn, NY who co-hosts the Between The Sheets podcast every Monday at BetweenTheSheetsPod.com and everywhere else that podcasts are eavailable. You can follow him on Twitter at @davidbix and view his portfolio at Clippings.me/davidbix.