Baltimore 24, Indianapolis 9: Ray Lewis was all over the broadcast, which is to be expected. It was his last game at M&T Bank Stadium and someone, somewhere decided that we all love Ray Lewis. He's clearly a divisive figure, however, and nothing typifies that more so than the middle linebacker of historic significance lining up as a fullback on the final snap of decisive victory. A lot of you probably hated it as self indulgent and a lot of you probably loved it as some kind of sendoff.
Whatever—Andrew Luck attempted 54 passes today and that has more to do with the Ravens win than Ray Ray. Joe Flacco, on less than half the attempts (and completions) of his counterpart Luck, had 282 yards and two touchdowns. Bernard Pierce continued his strong performance of late with 103 yards rushing to Ray Rice's 70.
Anquan Boldin also had himself a real day, with 145 yards on five catches. Here's one of the five—an 18-yard catch six minutes into the fourth quarter that essentially iced the game.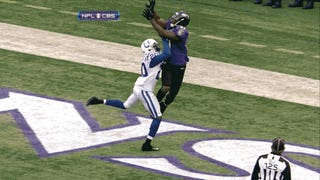 Back to Ray. Get it while you can, Baltimore fans. This could very well be the last time we mention this is the last time Ray Lewis does anything for the last time. Will he ever perform this dance in front of his home crowd again? Maybe in his new life as part-time helicopter dad he will adapt the dance to more menial, less "warrior"-y tasks.
"Babe, replaced the bulb in the refrigerator."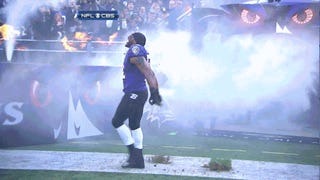 And how could we forget drooling Ray Lewis? Ray and his mucosae will travel to Denver next week to play the Broncos on Saturday.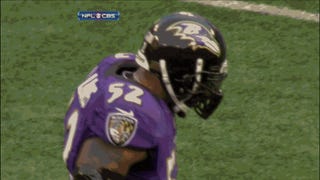 While we are on the subject of drooling. Referee Mike Carey had a rough day. Here's indisputable video evidence that he said the Colts were from Indiana. While technically true, how far are we willing to take this? The Midwest Colts? The United States Of America Colts? Bring back the replacement refs already!