Part of what makes European soccer and the multiple trophies it awards each season so special is how close its mechanisms of rewarding champions come to achieving true meritocracy.
"Durr, wait, so Leicester won the title," your annoying co-worker (probably named Barry) will prattle on disingenuously, "by not even playing? Real winners can only be determined by the playoffs, man!"
League championships, though, as crowned by the season-long table, are singularly grueling marathons that rely on consistent demonstrations of talent and superiority to win, not on a string of fluke-prone, one-off series that, as America's playoffs outside of the NBA regularly show, are just as often won by decent teams on hot streaks as by truly great teams. And on top of those fair domestic leagues, there is always the Champions League trophy to hand out, which is determined by a playoff system that comes closer to the excitement and the base appeal of head-to-head title deciders that certain fans crave.
The Champions League is generally meritocratic, too, though. Because its entrants are so selectively picked, and because the two-game home-and-home knockout rounds tend to send on the better team, it's normally safe to say that the two teams that make the final have rightfully reached the pinnacle of the sport that season. That is decidedly not the case this year.
Yesterday, we watched Bayern Munich and Atlético Madrid, two of the three best teams in the world, battle it out in a sophisticated, beautiful, heart-racing display of skill and determination. Both of those teams had to hack through a hellacious path to make it to the semifinal, facing opponents that also harbored realistic dreams of winning the world's most prestigious trophy.
G/O Media may get a commission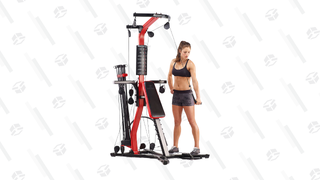 31% Off
Bowflex PR3000 Home Gym
Today, we endured the second of two sorry displays by two not-very-good teams who, by the grace of the Champions League draw balls, never had to demonstrate that they were truly worthy of the reward on offer. Real Madrid and Manchester City—the talent-laden but underachieving third-best team in Spain and the talent-laden but underachieving fourth-best team in England—played for a place in the Champions League final. Real Madrid won. Whatever.
There's really not much to say about the game itself. It was largely a mirror of the first leg last week, with both teams focused more on keeping the game close rather than winning it. Real benefitted from an own goal scored off a deflected Gareth Bale cross—it should be said, Bale was one of the few legitimately impressive players on the pitch today—early on, and neither team did too much to try and change the scoreline for the remainder of the match. The most memorable thing had to be the moment an off-side Cristiano Ronaldo tried to dunk the ball into the net:
Thus, by winning the tie 1-0 on aggregate, Real Madrid will face their cross-town rivals Atlético in a final that unfortunately looks destined to end in horror.

In a vacuum, Real is exactly the kind of team that should be in the final. The Blancos do have the second-best player in the world, one of the game's two or three best starting lineups, and arguably the single best top-to-bottom roster. The bummer of the situation is in how Real managed to stumble this far. Real Madrid are now 90 minutes away from winning the most coveted trophy in the sport, all without having put together a single great team performance against a truly fearsome opponent in either the UCL or in La Liga. Sure, Real blew out more than a few bad teams this year, and featured a couple stunning individual performances, but the team as a whole never clicked against anyone of note. Their Champions League opponents were especially embarrassing: To make it to the final, Real had to get past the shoplifter's row of Roma, Wolfsburg, and Man City.
Inspired by this tweet, which looked at the Elo ratings (a stat that attempts to normalize the results of teams across Europe so as to compare clubs) of Real's UCL opponents, I checked those numbers again today. Real's average Champions League opponent currently has an Elo rating of 1791, which roughly equates their opponents to Manchester United, in 22nd place in Europe. The other Champions League semifinalists had considerably harder schedules per the Elo ratings, all of which averaged out to above 1900, putting their average opponent in the top 10 in Europe. (Elo isn't a perfect stat by any means, but as an objective attempt at measuring the difference between clubs, it does give some kind of indication of relative ability. Also going for it is that it jibes fairly closely with the eye test.)
Real's opponents were on average worse than Liverpool's Europa League foes from the Round of 16 on, and were basically the same as fellow Europa League semifinalists Villarreal and Sevilla. Real Madrid have faced basically Europa League-quality opposition, while Atlético had to go through the two other claimants for best team in the world honors, Barcelona and Bayern. These wildly divergent paths both meet in the final, where the two teams will compete as equals.
That's the scariest thing here. Atlético have undoubtedly had the much more impressive season. The hardest thing to do in European soccer this season is to score against Atleti—just like how the hardest thing to do last season was prevent Barça's front three from putting a handful of goals past your keeper. The team that has the best single skill in Europe often winds up winning the Champions League. All logic would tell you that Atleti have proven themselves better than Real and worthy winners of the European Cup.
But reality doesn't always dovetail with logic (see: Chelsea in 2012), especially when the dark, supernatural forces that favor chaos and evil have a vested interest in a certain outcome. It would be so very Real Madrid for Real Madrid to fire their manager mid-season, hire a new one who doesn't really do anything different than the old one, come close to falling apart multiple times, then somehow chance their way into another European Cup by beating their most hated local rival. It's not too far afield from what happened just a couple years ago.
Because God isn't real—or at the very least is probably sapped of his magic points after expending so much energy to get Leicester the Premier League title—it feels almost inevitable that Real will win this trophy that they won't have earned. Everything's lined up for it. All we can do is hope the forces of good have one more deed to see through.