It was very evident that if the Red Sox bombed out of the ALDS—which they did, in wild fashion—that John Farrell was going to get the boot from Dave Dombrowski. The team confirmed this, announcing this morning that it had fired Farrell.
Farrell has a World Series championship under his belt, but suffered often from a fairly uncreative style of managing and a slowness in making critical decisions. The Red Sox, despite finishing first in the AL East, underperformed drastically in the postseason two years in a row. They had the misfortune of running into the blazing-hot Cleveland Indians last year, and the Houston Astros this year.
Still, Dombrowski apparently believed that the team was not wringing the most out of its very talented, pretty young squad, and the team will have its third manager since Terry Francona was let go after the 2011 season.
Pete Abraham threw out a list of potential managing candidates, starting with beloved catcher and current assistant to the GM Jason Varitek:
G/O Media may get a commission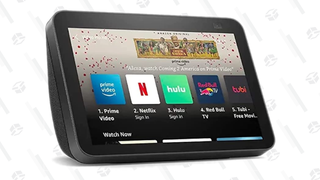 Varitek has no managing experience to speak of, and Dombrowski hired Brad Ausmus as manager in Detroit before leaving for Boston. Astros bench coach Alex Cora will be a popular candidate amongst teams looking for a manager, but some fresh blood on the dugout stairs should benefit the team quickly.
The Red Sox under Farrell posted a .533 winning percentage after winning the World Series, then finishing last in the division for two years in a row, then finishing first in the division in 2016 and 2017. Farrell's final outing with the Red Sox was cut short after he was ejected from the elimination game after screaming at the home plate umpire over a strike call against Dustin Pedroia.