This afternoon's ALDS Game 4 between the Astros and Red Sox was wild and messy, and it'll be a difficult one to top both in terms of drama and bullpen management.
Charlie Morton and Rick Porcello started the game for the Astros and Red Sox, respectively, and though both managed to wriggle free of potential disaster innings early on, neither was long for the game. Porcello was yanked after throwing 70 pitches in three innings, and Morton only made it one out into the fifth despite having a 2-1 lead.
Both managers took the boldest route possible after pulling their starters. The Red Sox turned to Chris Sale on three days' rest, and the Astros brought in ... Justin Verlander. Sale coming in for a Red Sox team facing elimination wasn't a huge shock, but A.J. Hinch skipping straight past all of his bullpen arms and going to Verlander was an odd move, even in the context of this year's playoffs, which have already seen all sorts of pitchers being used in odd situations.
Jonah Keri has advocated for managers going for a full bullpen game, something that seems plausible with all the starting pitchers knocked out early this October. Last year's postseason had the Indians blazing a new trail in bullpen management, building on a trend that had begun preceding few seasons—most notably with Madison Bumgarner's Game 7 appearance as a closer in 2014. Playoff baseball has been headed towards a full-on embrace of aggressive bullpen management.
Houston has its own version of Andrew Miller in Chris Devenski, but Hinch reportedly said before the game that the Astros bullpen, including Devenski, were a little bit gassed. So on came Verlander. For the most part, this kind of bullpenning has mitigated damage, and it's easy to see Hinch's decision as adhering to the philosophy of using the most effective pitcher, even if he's a starter. Or maybe Hinch was bringing in an out-of-his-element star as nothing more than a reaction to the other team doing the same. If you follow the concept of bullpenning but not the logic, is it still good managing?
G/O Media may get a commission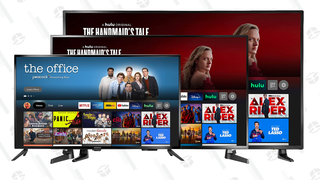 Up to 44% off
Prime Early Access - Insignia Fire TVs
Verlander didn't offer any easy answers of his own. He recorded eight outs and only surrendered one hit, but that hit just happened to be an Andrew Benintendi homer that put the Sox up 3-2. As for Sale, he made it through 4.2 innings and struck out seven, but served up a game-tying homer in the top of the eight to Alex Bregman.
After the Astros chased Sale, Craig Kimbrel came in to get the final out of the eighth, giving up a single to Josh Reddick to put the Astros ahead, then returning for the ninth, giving up a double to Carlos Beltran that put the Astros up 5-3. In the bottom of the ninth, Rafael Devers hit a two-strike inside-the-park home run off Ken Giles, but Boston's rally died there. The Astros advanced to the ALCS, Justin Verlander got the win, and the concept of the starting pitcher in the postseason continued to fade.