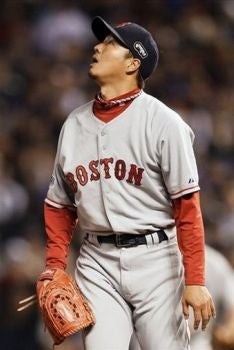 We received a tip about Red Sox reliever Hideki Okajima's plan to run the Hawaii Marathon tomorrow. Sounded like a fun little innocent tidbit, right? That depends on who you ask.
It turns out that the Boston Red Sox powers that be did not know about their pitcher's plans and they aren't too pleased.
The Red Sox were surprised to learn that lefthanded reliever Hideki Okajima will be running in the Honolulu Marathon Sunday. One team official said the Sox were not pleased and would have discouraged him had the team been apprised of his decision. Epstein did not return an e-mail regarding Okajima yesterday.
Oops. Apparently encouraging your players to stay in shape in the off-season does not include running 26.2 miles. They'd much rather have their pitchers report to camp fat.
H/T Sox and Dawgs