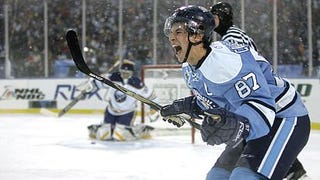 Even if you're not a hockey fan this will be pretty cool to watch. Of course I might just think that because I've married into a Detroit family that is rabid for the Red Wings. My mother-in-law still believes that the Nashville Predators have the worst-behaved fans in the NHL because of a game she attended here in Nashville.
Regardless, last year's New Year's game between the Penguins and Sabres brought in the highest hockey ratings in over a decade. Of course it snowed during that game in Buffalo. And, for whatever reason, televised sporting events with snow surge in ratings. Personally, it's hard to beat kicking back on your couch watching people freeze to death in the snow. I don't know why. Which means Gary Bettman and crew better manufacture their own if it isn't actually snowing.
What would make up for the lack of snow? Bartman's return to Wrigley. Assuming they have the nets set up for the game, Bartman has nothing to fear. Or lots. What the hell do I know I'm not from Chicago.
Hawks, Wings to play January 1 at Wrigley [Star-Tribune]
Which vintage jerseys should Detroit, Chicago wear in Wrigley [Puck Daddy]