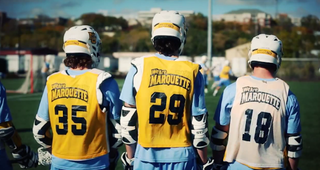 Last year, Charley Gargano had a bad trip. The former Marquette lacrosse player dropped acid, wandered around in his boxers and socks, and proceeded to punch a lady-cop in the face before being pepper-sprayed, arrested, and charged with a felony and assorted misdemeanors.
According to the Marquette Wire, after Gargano pled guilty to substantial battery with intent to cause bodily harm he was sentenced to six months at a House of Correction, which was transferred to the state of Colorado where he had moved. He also received two years of probation. The victim, Department of Public Safety officer Annette Demeuse, received a nasal fracture, a broken orbital bone in her face, and eight stitches above her left eye.
And that's the last we heard of Gargano—until his name popped up on Hofstra University lacrosse roster.
In this day and age, it's nice to see another white male get a second chance. Of course, it's probably because he's just a good kid at heart who made a regrettable mistake, and not that Hofstra's lax coach Seth Tierney also coached Marquette coach Joe Amplo.
Photo: Lacrosse Playground