The New York Times reported yesterday that David Pecker, chairman of American Media Inc., which publishes the National Enquirer, has been granted immunity by the federal prosecutors investigating whether the president funneled hush money to women with whom he had affairs. Here's how that worked, according to prosecutors: The unnamed chairman and chief executive of a company that owns a "popular tabloid magazine" would let Donald Trump's former attorney, Michael Cohen, know about any negative stories that came up about Trump's "relationships with women." When those stories did come up, they would be "purchased and their publication avoided," prosecutors said, adding that during the campaign, Cohen arranged "for the purchase of two stories so as to suppress them and prevent them from influencing the election."
This, naturally, has led to a lot of talk about what exactly the Enquirer has on Trump and if it will be given to the government. But it's worth recalling that what the Enquirer did for Trump—dubbed "catch and kill" because the story is prevented from getting published— isn't new or novel for the publication. It's been carrying out various versions of the scheme for years and for plenty of other famous and powerful people.

Maybe, just maybe, this thread federal prosecutors are pulling on will lead to more people than just the man in the White House. Or it could not. Only they know but, for now, I thought it was worth revisiting the other times we know of, based on the public record so far.
Arnold Schwarzenegger
In 2004, Los Angeles magazine reported that the Enquirer went soft on its coverage of Schwarzenegger in the lead up to the former fitness and Hollywood star's successful run for governor of California. In return, American Media got Schwarzenegger's cooperation with its collection of fitness magazines, including Muscle & Fitness. Former American Media staffers told the publication that the Enquirer was offered the story of a Schwarzenegger child born out of wedlock in the middle of 2003 but turned it down. When the Los Angeles Times published a series of stories with more than a dozen women saying the future governor had groped or harassed them, the Enquirer didn't follow the story for three days.
G/O Media may get a commission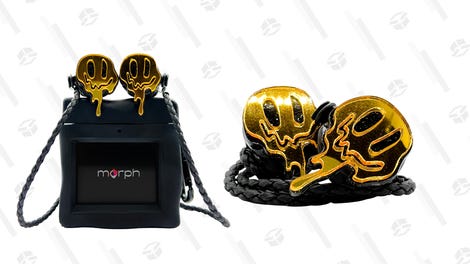 morph audio
Morph Earphones
Pecker denied intentionally giving easy coverage to Schwarzenegger. In 2004, according to Los Angeles magazine, Schwarzenegger was named executive editor of Muscle & Fitness and Flex.
Bill Cosby
American Media was part of two known arrangements with Cosby. Earlier this year, Montgomery County prosecutors said that American Media was included in the settlement given to Andrea Constand after she said Cosby had drugged and sexually assaulted her in his home in 2004. Constand had sued them, as well as Cosby, because stories the Enquirer ran a story slamming her character and containing false statements about her.
Beth Ferrier told Nicole Weisensee Egan of the Daily Beast that the Enquirer did something similar to catch and kill when she reached out in 2005, saying Cosby had drugged and assaulted her too. Ferrier agreed to an interview and a lie detector test in return for $7,500. But Ferrier's story never ran in the Enquirer, which instead went to Cosby and sat on her story in return for an exclusive interview with Cosby. It was in that interview that Cosby implied Constand was trying to extort him, leading to American Media's role in her settlement.
Cosby has since been convicted of aggravated indecent assault in Constand's criminal case. He is scheduled to be sentenced later this year.
Tiger Woods
In 2007, Tiger Woods agreed to do a cover shoot and photo spread for Men's Fitness in return for the National Enquirer not publishing a story and photographs of him in a liaison with Mindy Lawton, who was not his wife, the Wall Street Journal reported. The Enquirer had gotten pictures of the two meeting in a car; the quality was low but the publication didn't tell Woods that. When the Enquirer reached out to Woods, his team offered an interview instead, the Journal reported.
Within hours, representatives of Mr. Woods told the Enquirer that Mr. Woods wouldn't comment on the alleged affair, say people close to the matter. But the representatives made an offer: If the Enquirer dropped the story, Mr. Woods would sit for an elaborate interview for sister publication Men's Fitness, according to people with direct knowledge of the arrangement.

... After weeks of discussion, the two sides hammered out a contract detailing guidelines for the interview and the photo shoot, as well as the guarantee that the story of Mr. Woods's rendezvous in the church parking lot wouldn't be printed, according to a person who has seen the document.
Two years later, Woods' multiple affairs would come out. When asked for comment from American Media, the Journal was told that their story had inaccuracies, but the lawyer wouldn't say what those inaccuracies were.
Harvey Weinstein
American Media was a part of Harvey Weinstein's operation for gathering information the movie mogul could use to discredit women he feared would publicly say he had sexually assaulted. Ronan Farrow reported last year in the New Yorker that American Media's chief content officer, Dylan Howard, gave Weinstein information that one of his reporters gathered in 2016 on Rose McGowan. In one email to Howard, Weinstein wrote, "This is the killer. Especially if my fingerprints r not on this."
Howard explained this by saying that he "oversaw a television-production agreement with Weinstein," the New Yorker reported, and he told the publication "I had an obligation to protect AMI's interests by seeking out—but not publishing—truthful information about people who Mr. Weinstein insisted were making false claims against him."
Weinstein has since been charged with multiple sex crimes. Howard also reportedly is cooperating with investigators.
Did I leave one out? Or do you just have some insights into the National Enquirer? Let me know or use our anonymous SecureDrop.