The Mavericks finally got DeAndre Jordan this year, three years after ... well, you remember. It's possible this was a Monkey's Paw–type situation.

Jordan's numbers are pretty good. Through 13 games he's averaging about 11 points a night and nearly 14 boards. But tucked away, for some reason, in a power ranking, is this note from ESPN's Tim MacMahon:
Don't be deceived by DeAndre Jordan's solid statistics. He has been a major disappointment for the Mavs. He has rubbed teammates the wrong way with what they perceive as selfish play, the most blatant example being when he stole an uncontested rebound from Luka Doncic by putting his forearm in the prized rookie's back and tipping the ball away. Jordan's disinterest in playing help defense has been a big problem as Mavs opponents light up the scoreboard.
Yikes! Let's revisit that contested rebound, in a Nov. 2 loss to the Knicks.
Yes, that's a pretty weird thing. But it's also, for better or worse, who DeAndre Jordan is. A Dallas Morning News column from last month, before any of this went down, started with the anecdote of Jordan glaring at teammates who grab rebounds he considered rightfully his. Teammate Dwight Powell spoke of "friendly fire" when under the basket with Jordan.

G/O Media may get a commission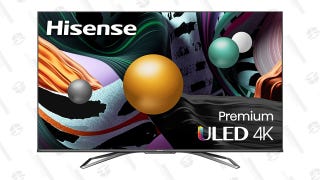 Save $350
Hisense ULED 65" Android 4K HDR Smart TV
When asked specific about going over the top of Doncic, Jordan fessed up:
"I guess I've been poaching for the past 11 years," he said Monday. "I feel like every rebound that comes off is mine. So I am guilty of that. But honestly, when I'm going for the ball, I don't really look for anybody else."
So Jordan does a couple things really well, but according to the ESPN report, it's the things he doesn't do that are truly deleterious—like play any sort of help defense. Among other things! By just about any measure, on both sides of the ball, the Mavericks are better when Jordan's on the bench than when he's on the court. Surprisingly, they even rebound better with him off the court.
Yesterday, Dennis Smith Jr. posted on Instagram to deny that there's any rift between the Mavs and Jordan. But as a practical matter, Jordan's impact on his team's play is a bigger deal than whether his teammates are getting annoyed with him, and early returns haven't been good on that front. Dallas is 5-8. At least Jordan's deal this time is just for a single year?