The Rockettes still do not sound too keen on performing at Donald Trump's inauguration, which meant that Madison Square Garden Company executive chairman and New York Knicks owner James Dolan felt the need to hold a meeting with the dancers. From the sound of things, he didn't do a very convincing job of making his case for the show to go on.
The Jan. 20 show is optional, even for the 12 full-time dancers, but Dolan was reportedly trying to explain to all the members as to why going to Washington, D.C. would be a good idea. According to MarieClaire.com, Dolan sat down with the Rockettes on Dec. 27. An excerpt, in which the Rockettes' brand is invoked:
Dolan held firm to his controversial inauguration commitment in this meeting. "This is a great national event," he said. "Every four years we put in a new president. It's a huge moment in the country's history. It usually signifies a whole change in how the government is going to run. The fact that we get to participate in it…we are an American brand, and I think it's very appropriate that the Rockettes dance in the inaugural and 4th of July and our country's great historical moments."

When asked by a woman in the room if that means the Rockettes support President-elect Trump outright, Dolan clarified "no," but when pressed about the idea that aligning the Rockettes with such a controversial figure could tarnish the brand, Dolan didn't budge: "I don't believe it's going to hurt the brand. And nobody is more concerned about that than the guy sitting in this chair. I'm about to spend $50 million remounting this summer show. I'm going to spend a similar amount remounting next year's Christmas show. I gotta sell tickets." He went on to point out that support from Trump voters isn't something he wants to miss out on: "A good portion of people voted for this person. Hopefully they will like our brand. If 1% of 1% of them come to our show, we're going to do great."
Another great excerpt, in which Dolan sounds really smart:
One dancer eventually piped up: "I mean, it just sounds like you're asking us to be tolerant of intolerance." Her comment was followed by uncomfortable laughter around the room and a pause.

"Yeah, in a way, I guess we are doing that," Dolan said. "What other choices do we have? What else would you suggest?"
G/O Media may get a commission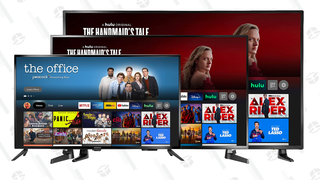 Up to 44% off
Prime Early Access - Insignia Fire TVs
This could be a stretch, but political affiliation might not be the only reason why a group of women wouldn't want to entertain a man who has bragged about walking into beauty queen dressing rooms while contestants were naked, and boasted about using his status to grope women. Who knows, though.
Brace yourself before reading this, but in this report, James Dolan, who reportedly told the dancers "he hadn't seen hate from anyone on the pro-Trump side," sounds out of touch. Next, you're going to tell me he tried to put a man accused of sexual harassment in charge of a women's basketball team!