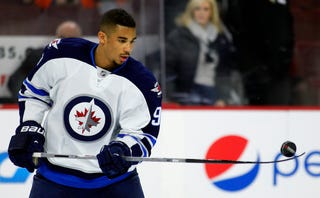 Winnipeg Jets winger Evander Kane was a healthy scratch for Tuesday's road game against the Vancouver Canucks, and according to one report, the decision came over a tracksuit.
Gary Lawless of the Winnipeg Free Press said Kane arrived in "sweats" in his report, but later tweeted that it was a tracksuit:
Regardless of the specific attire, it violated the dress code, so Jets coach Paul Maurice took Kane out of the lineup. This is all very silly.
Photo: AP