Kawhi Leonard's mysterious quad injury has kept him out of all but nine games this year. Spurs doctors cleared him to come back over a month ago, and the fact that he's only sort of part of the team right now as they're in the thick of a nasty playoff race is creating some legitimate friction within an organization known for its placidity. It's up to him whether he wants to play, and with 10 games left in the season, his teammates reportedly made their case to him last night.

According to ESPN's Adrian Wojnarowski, Tony Parker "quarterbacked" a "tense" and "emotional" players-only meeting with Leonard after the Spurs' win over the Timberwolves on Saturday. Mysteriously, Leonard reportedly told the room he had "good reason" for staying out.
Several teammates spoke up, expressing frustration and confusion over a growing divide with Leonard that has created significant tension between the franchise star and the Spurs, league sources said.

Leonard, 26, was resolute in response, insisting that he had good reason for sitting out all but nine games with a right quad injury this season, league sources said.
It's obvious that Spurs management has been speaking through Woj for a while, but that's an ominous update. Danny Green called bullshit, though it's not clear if he's disputing that there was a meeting or that Woj got the tone of said meeting right.
G/O Media may get a commission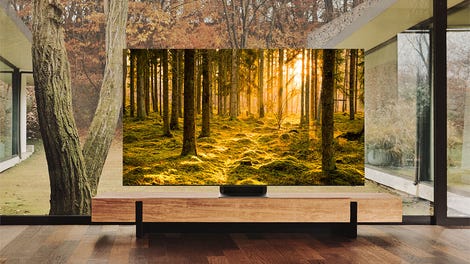 Up to 40% off
Samsung Smart TVs
So what's going on here? Leonard clearly seems spooked about the extent of his injury; Woj also reported that he has "impressed" in recent practices only to pull up short of making a vaguely planned return this week. But that only seems like half the picture. Leonard will be a free agent in a year's time, though he's eligible for a huge extension this summer. Perhaps he is trying to preserve his health in order to lock down the biggest possible payday, which you can't fault him for, though it would odd that he'd need to play hardball to this extent with the organization he would want to extend him, since the Spurs would obviously pay whatever they had to keep Leonard on the roster.
After an early scare, San Antonio is going to be in the playoffs again, and no team would want a first-round series against a Spurs team with Kawhi Leonard on the floor. It just seems less and less likely that he'll be up for it.