In the middle of a humiliating football season, the Michigan Wolverines are making a major change. Athletic director Dave Brandon will resign in a press conference scheduled for later today.
This week, mgoblog posted emails purported to be from Brandon arguing with Michigan season ticket holders angry about the football team's performance. One of those exchanges:
MICHIGAN FAN: Dave,

We are sick of all the talk, excuses, and most importantly the losses. You throwing Coach Rodriguez under the bus like you have this week was an embarrassment to the University and more importantly a big cheap shot on all of the players from his classes. Would you classify the game today as "big-boy football?" Would you consider Urban Meyer's offense "big-boy football?" Was that poor excuse of a defense today playing "big-boy football?" Not only was this season an embarrassment to this University, but your conduct over this past week puts a further black eye on this season and has no place at Michigan. Michigan is now truly a middle of the road Big Ten team and we have you (not Rich Rodriguez) to thank for that.

BRANDON: Quit drinking and go to bed.
MICHIGAN FAN: Thanks for the classy response. You may have just lost another season ticket holder.

BRANDON: Getting advice from you on what constitutes a classy email is really a joke.

Good luck!

Dave

MICHIGAN FAN: Dave,

With all due respect, please explain to me what was wrong with my original email? Did I say anything that offended you or that wasn't true? All I did was reference points that you used in your media tour last week. When you go out into the public like you did, do you not expect some backlash? To accuse me of drinking is laughable coming from someone in your position. As I have been reading from various writers, I hope you have extreme concern that the 100,000 attendance streak is in real jeopardy. We just want to win and us fans don't necessarily appreciate seeing you on tv and in the newspapers every other day.

BRANDON: I don't believe you know what "due respect" is....

You sent a snarky, negative article at 11:58 PM the night of a very disappointing loss....telling me what "we" are sick of! I didn't know you had been elected to represent anyone. I don't know who you are....and I really don't care about your views based on "what you read." And, I don't accept you as a representative of anyone other than yourself.

For you to point out that "we just want to win" is really profound. Do you think our kids and coaches don't want to win? Do you think I don't want to win? Really????

I don't know what you do for a living...but if you want to be an athletic director....go for it. If you want to be a coach...go for it.

As it relates to seeing me on TV or in newspapers....I have no idea what you are talking about. I don't know or care about that stuff....apparently, you do. You really should get a different hobby!

I will let the ticket office know of your decision to give up your seats. I am sure we can use your email address to locate your file. I am sure you will be much happier....because clearly your anger and frustration over our disappointing season has gotten the best of you.

It's too bad...if you got to know our kids and coaches, you would likely enjoy supporting them even when times are tough. They are quality people who care a lot about Michigan. Their efforts, sacrifices and commitment goes beyond putting go blue in their email address and pretending to be a loyal fan - they stay positive and continue to fight even when people like you attack them and the outcome of their efforts.

I wish you well....and I hope you find a team to support that wins every game and every season is a complete success.

Dave
His entertaining back-and-forth interactions with huffy fans were minor compared to a variety of other issues. Brandon, for example, reduced the amount of student section tickets back in June, saying he wanted the student section to be more "robust." That didn't go over well, and he tried to mend the relationship with the student body this month by lowering the price of student section tickets for next season.
G/O Media may get a commission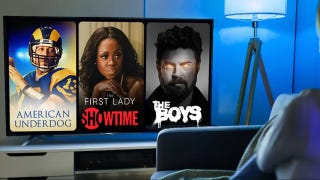 UNDER $1
99¢ Prime Video Channels
The big shit was Michigan getting crushed by Notre Dame and Michigan State the irresponsible handling of quarterback Shane Morris. Morris was clearly injured against Minnesota, and no one from Michigan's staff held him out from returning to the game. Head coach Brady Hoke later pleaded ignorance, and Brandon chalked it up to a "serious lack of communication" instead of issuing any real discipline. All of this was bad in its own right and symbolized Hoke's embarrassing ineptitude; now the man who hired him will have no hand in picking his replacement, which is probably for the best all around.
Photo: Getty