Phil Mickelson's money was at the heart of a recently concluded federal money laundering case, according to ESPN's Outside the Lines. OTL reports on the case of Gregory Silveira, who plead guilty last week to money laundering charges for moving $2.75 million through multiple bank accounts in an illegal gambling scheme. According to OTL, that $2.75 million was wired to Silveira by Phil Mickelson. Here is the heart of the case:
According to court documents, in March 2010, Silveira — a participant in "an illegal gambling operation which accepted and placed bets on sporting events" — accepted a wire transfer of $2.75 million, which he knew was part of "illegal sports betting." The money, according to the documents, came from a "gambling client" and had been transferred into Silveira's Wells Fargo Bank account. Three days later, Silveira transferred $2.475 million and then $275,000 into another of his Wells Fargo accounts. The next day, Silveira transferred the $2.475 million to another account he controlled at JPMorgan Chase Bank.
The name of the "gambling client" wasn't revealed in court or court documents, though there was one big slip-up:
Although the final plea agreement reached between Silveira and the U.S. Department of Justice does not name the "gambling client," an initial plea agreement signed last month by Silveira and his attorney, James D. Henderson Sr., contained a reference to the "money laundering of funds from P.M." After Outside the Lines inquired about Mickelson's potential role in the case, the U.S. Attorney's Office on June 17 filed a motion to have the original plea agreement stricken. The next day, it filed an amended version minus any reference to "P.M."
Mickelson was not charged in the scheme, nor is he under federal investigation related to it. ESPN legal analyst Lester Munson surmises that Mickelson wasn't charged because "federal gambling laws are directed at gambling enterprises and not at individual bettors. Presumably the investigation found that the "gambling client" only transferred the funds, and didn't collaborate in their attempted concealment, which would've drawn charges.
Stories about Mickelson's gambling are countless; the bigger surprise here is just how much money is involved, and that he's involved with a doofus dumb enough to think that transferring millions of dollars willy nilly from bank account to bank account wouldn't draw the attention of authorities.
G/O Media may get a commission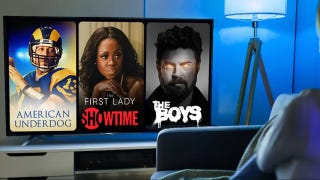 UNDER $1
99¢ Prime Video Channels
---
E-mail or gchat the author: kevin.draper@deadspin.com | PGP key + fingerprint | Photo via AP