School officials from Byron High School determined that the 10 football players who participated in an "Oreo Run" was not a result of team hazing, according to the Rockford Register Star. After nearly 30 interviews with coaches and players, along with some film analysis, they concluded that the players' actions were entirely voluntary.
The "Oreo Run" in question was reminiscent of the cookie race from Blue Mountain State. While the article says that the participants had to run the length of the field with an Oreo stuffed between their butt cheeks, there was no indication of whether the losers had to eat their respective cookie, like in the show. Ten players were disciplined for participating in the event.
Per the report:

The players were suspended for indecent exposure and forced to sit out of games on Nov. 10, 17 and 23, the last of which was the Class 3A state championship game, documents obtained by the Register Star through the Freedom of Information Act show. In a letter sent to parents about the discipline, the district said the run happened Oct. 26 and school officials learned of it on Nov. 8. Parents were called the next day.
Below is a copy of the letter obtained by the Rockford Register Star that was sent to the players disciplined for the incident.
G/O Media may get a commission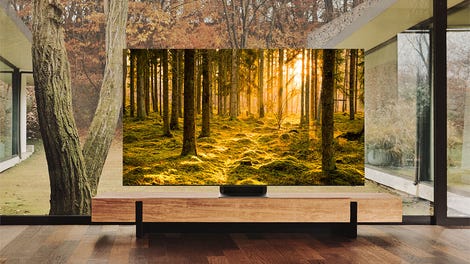 Up to 40% off
Samsung Smart TVs
The report points out that the team's best players did not sit out the three games listed—which included two playoff rounds and a state championship game—so whether players actually followed through with their suspensions remains to be seen. But both an assistant for the team, and the Byron School Board President, said the situation was handled well.
Volunteer assistant Sean Considine, a former star on Byron's lone state-title team as well as a former NFL player, said he was comfortable with how the incident was handled by everybody involved.

"There was no thought given to the football season, wins or losses, who are the stars and who's not, in this entire thing," Considine said. "It was dealt with using an iron fist, and I will stand by all of it."

[...]

Byron School Board President Carol Nauman believes the matter was handled professionally and correctly.

"The board was informed right away, and they investigated this to the very best of their ability. I'm confident in that," Nauman said. "They did everything they could (to protect the kids), and they have worked very hard to get this right.

"As far as making it better for the future, I think that's going to take some time, but we need to work on that."
How Nauman plans to handle the prevention of athletes sticking snacks up their own ass is beyond me, but I guess that's why she probably gets paid the big bucks.