ESPN 980 beat reporter Chris Russell learned a valuable lesson about not saying anything ever, when he promised last week to quit his job if Washington signed DeSean Jackson. Well, Washington signed DeSean Jackson.
Dan Steinberg, who remains surprisingly sane for someone who has to listen to sports radio for his job, has the transcript of Russell speaking on Friday afternoon, soon after the Eagles cut Jackson and any suitors were just theoretical:
"Here's one thing I feel good about. Listen, and I'll say this on the radio. And [VP of Programming Chuck] Sapienza might get mad at me, but I'll quit if the Redskins sign DeSean Jackson, OK?

[...]

"Listen, I will say this. I feel very confident in this, OK? Again, you will have to find somebody else to do this job. I'm done if DeSean Jackson is coming here. Done. Done like dinner."
Now that Jackson has signed, Russell turns out not to be done, like dinner or otherwise. In a blog post after the deal was reported, Russell doubled down on his belief that Jackson will be a good player, but not good enough to justify the headaches.
Sorry to be so negative, while you are drinking the kool-aid. I have heard from thousands of Redskins fans who already didn't like me. Having an opinion that is contrary to their vision has done nothing to make them like me. However, the best thing about this - only time will tell.

This is not on me. This is on DeSean to prove that Chip Kelly was wrong. To prove that the Eagles were wrong. To prove that NJ.com was wrong. To shut everyone up that has wrote column after column.

More importantly, this is on DeSean Jackson to prove that the Redskins were right. To prove that DeAngelo Hall and Robert Griffin III's faith in him as a talent and more importantly as a person was justified.

This is on DeSean Jackson to show you and prove to you EVERY DAY that Dan Snyder was justified for getting involved, and to Bruce Allen and Jay Gruden who made other decisions together before this - but THIS is how their new regime will be defined.
G/O Media may get a commission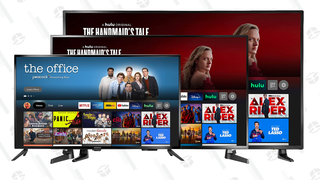 Up to 44% off
Prime Early Access - Insignia Fire TVs
I don't totally get this. Shouldn't a reporter always be rooting for dysfunction? It makes the job so much more fun. Maybe it's different if, like Russell, you work for a Dan Snyder-owned station.
Chris Russell said he'd quit if the Redskins signed DeSean Jackson [D.C. Sports Bog]