Three months of annoying, Kimmel-led promos and awkward corporate tie-ins weren't enough to keep ESPN's college football playoff semifinal TV ratings from plummeting on a New Year's Eve, the traditions of which have never featured watching college football at home.
That's a 36% drop-off from last year's semifinal viewership, worse than even the most pessimistic projections. ESPN says it's trying to establish New Year's Eve as "college football day," the same way the NBA has claimed Christmas and the NFL Thanksgiving. After all, it was a conscious choice to put the games on a night when nobody is watching TV:
Playoff officials had a chance earlier this year to move the semis to Jan. 2, a Saturday with no competition from NFL games, but they were apparently so eager to begin the "new tradition" of playing games on New Year's Eve that they decided to inconvenience fans and risk losing millions of viewers.
Good work, playoff officials.
Update (2:39 p.m.): Reader Matt sends in this sign he saw at an Orlando Disney resort yesterday, directing people to viewing locations for the game:
G/O Media may get a commission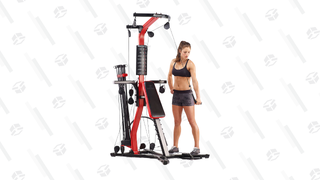 31% Off
Bowflex PR3000 Home Gym
Update (3:15 p.m.): Amazingly, ratings were actually up for New Year's Eve programming; projections that anyone would decide to watch football instead of Pitbull's New Year's Eve Apocalypse turned out to be 100% false.
To contact the author of this post, write to tim@deadspin.com (PGP key) or find him on Twitter @bubbaprog.