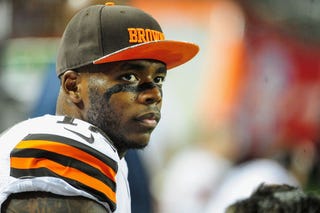 ESPN's Adam Schefter is reporting Browns receiver Josh Gordon has failed another drug test and is now facing a year-long ban from the NFL. It's his third reported flunked test, and ProFootballTalk says Gordon tested positive for alcohol.
Gordon missed two games in 2013 and then faced a season-long ban before this year after a second failed test; upon revision of his punishment, Gordon was restored to the Browns' roster only to again be suspended from it.
The NFL's made it clear players are better off befriending horses than smoking weed, even if marijuana is a therapy that actually helps keep players on the field. Presumably the grounds for Gordon's return included no drinking, if PFT's source is correct.
Photo via Scott Cunningham/Getty