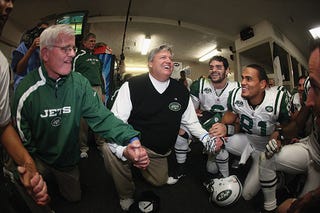 Owner Woody Johnson was curiously coy about the Jets doing another edition of HBO's Hard Knocks, when asked about it last week. That's because, according to Fox Sports, he's totally all about it. What's not to like? Tebow! Sanchez! Holmes! Ryan! This could be the greatest reality/docudrama/propaganda film ever created. HBO, please produce a dotted line and a pen.
Not so fast. Fox says that Rex Ryan, the ringleader of Florham Park's no-ring circus, is standing in the way of greatness. Supposedly Ryan doesn't want this season to turn into the same tabloid sideshow as last season, or the season before that, or the season before that. With a roster designed to draw attention, if not win, the Jets don't need Hard Knocks to be the most interesting and covered team in the league. But still: pleasepleaseplease do it, Rex.
Fox notes that the Broncos have already turned down HBO's offer, and that the Harbaugh-led 49ers and Ravens are a possibility. And then this, which is just so, so sad.
The Jacksonville Jaguars, ranked last in the latest Harris Interactive Poll for league popularity, have told HBO they would love to do the show.
Rex wants no part of 'Hard Knocks?' [Fox Sports]