Rex Ryan just can't help himself. He couldn't help himself when he named the guy who broke Jets quarterback Geno Smith's jaw one of the pregame captains, and he couldn't help himself when he reacted like he'd just won the damn Super Bowl after beating the Jets, the team he coached for six years before moving to Buffalo.
Ryan was still flying high during his postgame presser, and described what it felt like to beat his old team in his typical fashion:
The fun thing about Rex is that he still does this stuff despite having lost nearly all of the mystique that once had people naming him as one of the best coaches in the league. It's easy to act like the biggest swinging dick in the room when you're a defensive-minded genius taking a mediocre quarterback to the AFC championship game, but much harder to do so when you're a mediocre coach known for presiding over inconsistent, undisciplined teams. For some people, like ESPN's Ian O'Connor, the act has grown tiresome:
But before his new team, the Buffalo Bills, held off Todd Bowles' Jets by a 22-17 count in a bittersweet MetLife Stadium homecoming, Ryan exposed himself as a not-so-nice guy after all by walking his talk and sending out IK Enemkpali as one of his captains for the coin toss. It was the one career guarantee Ryan actually backed up, and the one he really needed to spike into a trash bin the way he spiked his red cap and headset Thursday night after Bacarri Rambo's interception decided things in the final seconds.

Ryan was some victorious sight on the sideline, wildly swinging his fists, screaming profanities and hugging players to slap an exclamation point on his conquest of the franchise that canned him after four playoff victories in two years and then a whole lot of buttfumbling and bumbling after that.
G/O Media may get a commission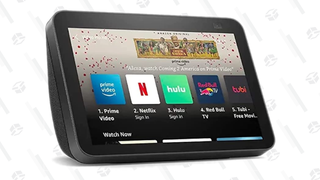 To hell with that, though. Rex Ryan is a not-great coach who is often an annoying asshole, but at least he stands apart from the rest of the replicants that populate the NFL coaching class. I'll take his trolling and unearned bravado over Jim Caldwell's blank stare and Bill Belichick's malevolent grumbling any day.