Rex and Rob Ryan surprised absolutely no one when they swung by the Hooters in downtown Indianapolis. It was at the NFL combine three years ago, and the Brothers Ryan—Rex beginning his final year with the Jets, Rob having finished his first season in New Orleans—posed for a photograph with the wait staff that the restaurant tweeted out. It was all harmless fun, and the internet got a big laugh and some page views out of it, too. Everyone was happy. But for reasons that were never quite clear, Hooters later deleted the tweet. Perhaps it created too much unwanted attention. Whatever. There was obviously enough shame being directed from somewhere, toward someone, and it proved to be too much for the image to go on existing on the official Twitter account of Hooters of Indiana.
I was on the Jets beat at the time, and I was there covering the combine. The very next night, I walked by Hooters on a whim. And wouldn't you know it, seated right there at the window, right next to the front door, no shame in their game, were Rex and Rob, getting ready to watch that night's UFC pay-per-view.
A bunch of other NFL types were at Hooters that night—John Fox, Jay Glazer, even Dan Snyder, who may or may not have had a booster seat—but that's not the point. There's nothing wrong with hanging out at Hooters. But Rex and Rob were there just the day before and had caused a bit of a fuss, and it had no doubt gotten back to them, yet there they were again. And they made absolutely no attempt to hide their presence.
I thought of that moment when Rex was fired by the Bills last week. Rex is the genuine article: He's the same guy when the cameras are off as he is when his words are printed in 72-point type. His players always love him—until they start losing with him. It's hard not to think he's been just too comfortable in his own skin to be a great NFL head coach.
---
Rex began his head coaching career by twice bringing the Jets to the brink of the Super Bowl. But he's been surviving off those fumes ever since. Rex-coached teams have missed the playoffs six straight years, a feat that's only been accomplished three other times since the NFL-AFL merger, and not since 1984. Many factors beyond Rex's control have contributed to this—years of bad drafts in both New York and Buffalo, awkward relationships with two general managers, a succession of bad-to-average quarterbacks—but there's no denying that Rex eventually walked himself out onto the plank. This remains true even now, with no one seeming to know exactly who does what in the Bills' front office.
G/O Media may get a commission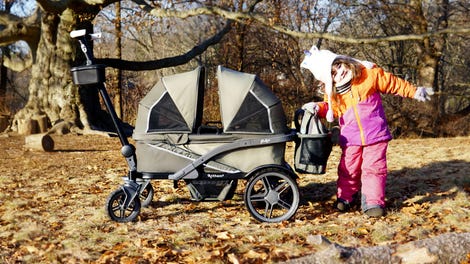 30% off
The Anthem All-Terrain Stroller Wagon Adventure Bundle
Go everywhere with your kids
This must-have bundle nets you either of Gladly's award-winning Anthem2 or Anthem4 All-Terrain Stroller Wagons as well as must-have accessories like a parent cupholder, a removable storage basket, extra-large canopies, a nap system, quilted comfort seats, a cooler bag with a padded shoulder strap, and a travel bag.
Bills fans have spent the last two years watching shit like this—
—along with in-game personnel screw-ups, timeouts needlessly burned, and untimely penalties. It all was basically a repeat performance of Rex's final four seasons with the Jets.

Rex made his reputation by jamming a thumb in the eye of the NFL, by saying nuts to a coaching culture that treats secrecy and restraint as sacramental. He understood he was in the business of winning football games, but he equally understood he was in the business of entertainment, and that he was born to play a starring role in a job that doesn't usually call for the spotlight. Why would Rex once dare say he wanted to kick Bill Belichick's ass? Because he really wanted to kick Bill Belichick's ass, that's why! To hell with whether that kind of talk violated some unwritten rule that says NFL head coaches aren't supposed to speak that way in public. With Rex, what you saw was, usually, exactly what you got: a showman whose bluster was performative without being an act.

That foot thing? Rex never tried to wish it away with some phony PR counterattack; he owned it. According to Nicholas Dawidoff's 2013 book, Collision Low Crossers, when other coaches on staff tried to bust his balls about the foot fetish stuff, Rex would say, "I'm the only guy in history who gets in a sex scandal with his wife!" In what will always be the greatest Hard Knocks series of all time, Rex made high art out of saying the word "fuck." From Super Bowl guarantees to "Let's go eat a goddamn snack!" Rex was honest, and during his final season with the Jets, there was nothing sadder than watching him play the company man who kept biting his tongue and insisting things were fine long after he knew he was doomed. Rex was the last truly human football coach. His departure means we're left with more Belichickian androids.

Rex's swashbuckling style has also clouded other people's ability to see him for what he is, to swaddle the reality in myth. Hell, he once heard that Woody Johnson thought about keeping him around even after he knew he was going to get fired. And you'll still hear people say Rex is a great defensive coach. But Rex's defenses have been pretty shitty for quite a while. Just look where they've ranked in DVOA during his time as a head coach, which began when he took over a promising Jets defense that had been ranked 14th the year before his arrival:
2009 Jets: 1st
2010 Jets: 5th
2011 Jets: 2nd
2012 Jets: 9th
2013 Jets: 12th
2014 Jets: 21st
2015 Bills: 24th
2016 Bills: 24th
(That Bills defense he inherited had been ranked second just the year before.)

The story of the NFL is that of an ongoing arms race between offenses and defenses, with the pendulum swinging back and forth from era to era as each side acclimates and innovates. Rex liked to describe his defensive philosophy, developed over his decade as an assistant in Baltimore, as "organized chaos," an unpredictable scheme of varied fronts, personnel groupings, blitzes, and coverages designed to dictate its aggressiveness to the offense, rather than the other way around. But in recent years, the proliferation of offenses predicated on short, quick throws out of sets with extra pass catchers, including tight ends and running backs in the slot or out wide, has turned the tables. Offenses are now generally nimble enough to adapt to the confusion and deception key to a Ryan defense.

It took a while for the league to solve Rex, but when it did, he wasn't able to counter. A good example: Rex is reputed to be one of the few coaches capable of containing Tom Brady. He did, after all, beat Brady in a 2010 divisional playoff game in Foxborough, the Jets' greatest win since Super Bowl III. But Brady has since gone 10-1 against Rex. It's a trend that shows up again and again in Rex's head coaching career: He was never quite as adaptable as his schemes required his own players to be.

Rex's defense was designed to be versatile, but it required just the right personnel—the sort of elite players who populated Brian Billick's Ravens and those first couple of years with the Jets. As Bills defensive tackle Marcell Dareus told ESPN's Josina Anderson after Rex was fired last week, the constant adjustments integral to Rex's scheme were "just too much detail for a lot of guys," and, besides, "nine times out of 10, a team will throw something out there that we weren't prepared for." In the end, there proved to be a lot of chaos to Rex's D. There just wasn't much that was organized. And it wore on players.
After the Jets dumped him, Rex probably should have taken some time off from coaching. But as The MMQB's Jenny Vrentas, our foremost Rexologist, recently explained:

I believe he took the Bills job for two reasons: 1) They made him feel wanted and 2) his loyalty to his assistant coaches. Ryan signed a multiyear extension before his final year in New York, but the organization reneged on its promise to similarly extend his assistants. Many were left on one-year deals for that final season with the Jets. When Ryan was fired from the Jets, he would have left his staff hanging if he didn't take another job again right away. So he jumped at a gig that was too similar to the last—still in the same division as Belichick and Tom Brady, without an established quarterback and with another coach-GM arranged marriage. He had also interviewed with the Falcons and was waiting for a call back for a second interview but fixated on the Bills job when he realized their interest was real, not wanting to risk being left out in the cold.
Rex's subsequent decision this year to bring in his brother Rob, whose defenses with the Saints had been awful, was more of the same old hubris. Rex took great pride in being a players' coach, and his players often spoke glowingly of him. But both times he's been fired, Jets and Bills players alike began lining up to say that some restoration of discipline, some semblance of accountability, was needed to get things back on track. Again, Rex never learned from experience. He just kept going back to his booth by the window, confident everything was A-OK.
---
Two more quick Rex stories. His Jets training camps were held in Cortland, N.Y., a three-and-a-half-hour drive from New York City, somewhere near the outskirts of nowhere. In the evenings, it wasn't uncommon for one or more members of Rex's staff to be seated at the bar at the Dark Horse, one of the few spots to grab a drink in the center of town. (I spent a lot of nights at the Dark Horse, just doing my job, I swear.) These were regular dudes who worked long, hard days in the blazing sun and needed a beer or two to unwind before going back to watch more film or head to bed. They didn't give a shit who was there or who saw them. One night in the summer of 2014, Rex made an appearance. The bar had even promoted it, and the place was packed. For a good while, Rex stood next to the bar, nursing a longneck, chatting up the fans and the locals, even posing for a few photos. He left around 11 p.m. The next day, when he saw me after practice, he smiled and wagged a finger at me and said, "I think someone was out having a few beers last night!"
At another point that summer, back at the team facility, the Jets gave each reporter new to the beat the chance to sit alone with Rex in his office for a 15-minute, off-the-record chat. Rex and I talked football for maybe two of those minutes. He was more interested in asking me about myself. When I told him my wife was pregnant, he lit up. He shared stories about his own sons, and how fun it was to raise them and watch them grow. He even had some advice.
"You do the feeding after your wife's done breastfeeding," Rex said. "As long as your wife is breastfeeding, you want to be the one who changes the diapers." He looked me straight in the eyes and grinned that familiar Rex grin. "'Cause there's no smell!" (As I would soon discover, he wasn't kidding.)
Rex was a reporter's dream; there was no such thing as a slow news day on the Rex beat. And most significantly, he made it damn near impossible not to like him.
When the Jets fired Rex, Matt Taibbi authored the definitive tribute. "The central question with Rex," Taibbi wrote, "is whether fun can coach and win in the modern NFL." Sadly, that question now has an answer, at least as far as Rex is concerned. Rex began his gigs with both the Jets and Bills by making big, boastful promises. He's gone from Buffalo after a mere 31 games not because of those promises, but because he couldn't look closely enough at himself to see the things he needed to correct. The same quality that makes Rex Ryan so likable—an exceptional confidence and contentment in who he is—probably kept him from being the coach he always thought himself to be.