Former Louisville head coach Rick Pitino is a busy man and, almost assuredly, a messy gentleman. While he may find himself jobless and ostracized for the time being, his schedule is booked full thanks to two separate lawsuits, both filed for spectacular reasons, and, now, a very public spat with Louisville board of trustees member Papa John Schnatter.
Speaking with the Louisville Courier-Journal, Pitino relayed his version of his final three months in Louisville, recalling in particular a board of trustees meeting he attended three months prior to his September firing. While the NCAA bribery scandal is still a major, intriguing story, Pitino's logs in the whole thing have already become tired, if not due to the fact that it's basically the same campaign he rolled out during Louisville's escort scandal; the only facet remotely worth any legitimate attention is his fallout with America's most hated trash-pizza man, Papa John.
Prior to the meeting on June 28, Pitino said since-fired athletic director Tom Jurich informed him that neither board chairman David Grissom or Schnatter, the vice chairman, wanted him there. While his relationship with Schnatter was at one time amicable, even friendly (the Courier-Journal references Pitino's hiring story, when Papa John flew him to Louisville on his private plane and put him up in his guest house), Pitino claims that Schnatter, attending via video conference, dressed him down during his 35 minutes in the meeting, openly questioning why the men's basketball coach should be in attendance.
"I have a problem with coaches coming to trustees meetings," Pitino quoted Schnatter as saying. "What's next, the women's volleyball coach coming in there?"
Pitino said he told his coaching staff the next day to walk on eggshells around the campus, as he believed "these people don't want me here." He also conveniently added that he instructed them to take any potentially questionable situations to the school's NCAA compliance department immediately. Fast forward three months—Pitino and Jurich catch the axe for their involvement or ignorance of the athletic department's role in setting up signing bonuses for men's basketball, which were paid for by Adidas.
G/O Media may get a commission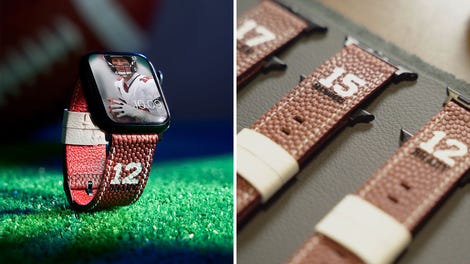 Official NFL PRODUCTS
Official NFL Apple Watch Bands
Of course, to hear Pitino tell it, he's the victim of an internal coup, one brought on by the likes of Papa John as retribution for the escort scandal (which Pitino will tell you was totally not his fault) and ensuing bad press and NCAA violations; the FBI indictment was merely the Louisville board's earliest opportunity to fire him with cause. That tripe is the foundation of his two lawsuits—one filed against Adidas for emotional distress and the other filed against Louisville for breach of contract (both will be spectacular shit-shows, should they make it to court.)
If anything's admirable about the way Pitino's carried himself over the past year, it's his commitment to playing the role of the convicted justice-seeker. In statements and interviews with ESPN's Jay Bilas and the Courier-Journal, Pitino's boasted lie-detector test results, repeatedly dodged any claiming of personal and professional responsibility to know what the fuck is happening in his program, and done a great deal of finger-pointing. The day the FBI released its first batch of findings, he said the allegations "came as a shock." The problem with this approach is we've seen it all before, only now, due to the firing, he's pettier about it, with the most recent highlight being his attempt to undercut the school's announcement of the interim head coach.
Attempting to save face (and a recoup whole bunch of money), Pitino has taken the offensive, trotting this character out for the public once more. In speaking with the Courier-Journal for Friday's story, the embattled head coach said the school "rushed to judgment," adding—in a moment that absolutely defines both Pitino and his faulty, selective-memory narrative construction—that Miami head coach Jim Larrañaga is still employed despite facing similar accusations.
"I think they made a very big mistake," Pitino said. "They rushed to judgment on a lot of things. Here you are, you've got to fight the NCAA for a lot of things. You fire the head coach and you send a red flag to the NCAA that Louisville did some things wrong. They told the whole country I was guilty. Everybody else in the country stayed calm and said, 'Wait a minute. What's all this about?' ... The Miami situation is exactly the same as mine, but nobody's fired in the country except me. It was very traumatic, very humiliating."
If Pitino were being honest, the ellipsis ahead of his reasoning that "the Miami situation is exactly the same as mine," would read instead, "Ya know, if you take out the time my staff brought in escorts for my high-school recruits..."
But this interview, like practically every interview Pitino has granted since his firing, is strategically only telling part of a story, and it's a part that's neither all that convincing or plausible. Pitino is playing the ignorance card, claiming that he did not maintain the oversight of his program well enough to catch $100,000 payments. It's the same move he pulled with the escort scandal, when he said didn't know sex workers were being paid to strip for and hump his recruits in a Louisville dorm (the one named after his brother-in-law, who died in 9/11, if you don't remember). His plea of ignorance in this case, much like his continued claim that he shouldn't be held fully responsible for the actions of former director of basketball operations and escort hook-up Andre McGee, is built on a shallow foundation, one that's already been corrupted by a federal indictment that states Pitino agreed to call Adidas executive Jim Gatto to ensure that Brian Bowen's father got paid.
Despite being a multi-millionaire (admittedly, a disgraced multi-millionaire) with mansions and fame, Pitino, like a great deal of aging college coaches that got too comfortable in running their fiefdoms free of internal discipline, is not content to let someone other than himself present a narrative he cannot control. The more his grip loosens, the more mud he'll sling. It's going to be embarrassing and messy and extremely petty; the only heartening part is the fact he's managed to wrap dipshit Papa John up in some of it.