Any time an interviewer starts his questioning by telling his subject, "You're such a passionate guy and I have such affection for you," you know it's going to be revealing TV.
Fred Cowgill of WLKY in Louisville gave Rick Pitino one of the most pillow-soft interviews you'll ever see in you're life today. And why not? Cowgill even reminds Rick during one of his "questions" that he was a graduate assistant at Boston U. when Pitino was head coach. What a small world, huh? Say Rick, since I managed to score this exclusive one-on-one could you tell me how you became such an awesome leader?
What is perhaps even more galling than this local airwave reach-around, is Pitino's comments about his daughter, who must be thrilled to have so much "adversity" in her life. You see, because of Dad's unnamed "adversity" and the unfortunate deaths of two of her uncles, the Pitino kids are going to be strong as oak and ready to take on any challenge life throws at them.
"I told my daughter this the other day. I said, 'Sweetie, what you've been through in your life, with your two uncles and now with this ... what you've been through in your life, you'll be strong enough to handle anything in life and that's you have to look at adversity.'"
That sounds awesome. I'm just not sure if her uncle's murder on September 11 is more or less character-building than knowing her dad banged a woman who is not her mom on the floor of restaurant. Either way ... thanks for the life lessons, Pop!
G/O Media may get a commission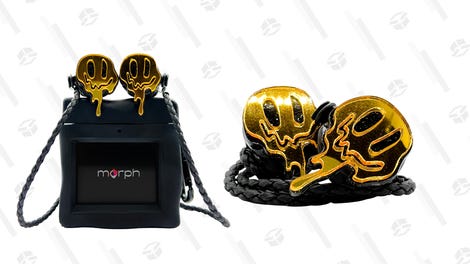 morph audio
Morph Earphones