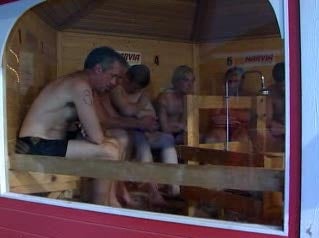 Who's that handsome shirtless man sweating like Aaron Altman? Why, that's Sports Illustrated columnist Rick Reilly, who, in another of his wacky journalistic stunts, entered the World Sauna Championships in Finland this weekend.
The rules were simple: Stay in a sauna as long as you can. It must have been pretty hot in there, because the winner stayed in for ... 12 minutes.
Reilly was not the winner of the event, but you'll surely be reading about it in SI's pages sometime in the next month. (On second thought, you probably won't, unless you're desperate to hear that Robert Fick's summer reading is Playboy magazine and that he's "dying" to hang out with Lindsay Lohan and Paris Hilton.)
In any case, expect many riffs!
Competitors Flock To Finland To See How Long They Can Stand Being In A Sauna With Rick Reilly [FanIQ]