Robot-fearing Chicago Sun-Times sports columnist Rick Telander senses a higher power surrounding these 2012 Chicago Cubs. It's something holy and ethereal, or maybe it's grounded in hard, empirical data. Gosh, maybe we'll let him sort this out.
Has there ever been a baseball team whose superstar was the ... president of operations?

I'm thinking not.
Fair enough.
The day humans pay to enter a ballpark because of faith in a man who has a high IQ and looks good in a tailored business suit is the day, well ...
Hello, Cubs fans!
Oh, snap. Bet you didn't see that coming, Cubs fans. Total burn.
Theo Epstein — boy wonder-turned-genius achiever-turned-mythical savior — is the main draw as the Cubs' 2012 season approaches.
No, he's not. Not a single fan, especially anyone paying hundreds of dollars face value, is headed to today's opener against the Nationals to see Theo Epstein operationally preside.
Fans haven't knelt and wept and touched the hem of his Italian-cut pants. But the sentiment seems to be there.
G/O Media may get a commission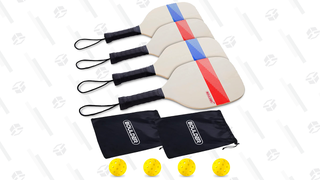 It's Pickleball
Pickleball Sets
In other words, Cubs devotees are literally ready to throw themselves at this man's feet—assuming they actually touch the ground—but they just haven't had the chance yet.
But the sentiment is there. (Maybe.)
Epstein, 38, the former general manager of the Red Sox, hasn't asked for the worshipful attention.
He must mean the sentiment of worshipful attention.
In fact, he has been almost off the radar since doing the mandatory press chatter after being hired by Cubs chairman Tom Ricketts last October.
Yes, it's called winter. It's the only one of the four seasons in which no Major League Baseball is played.
But the cult of Theo cannot be suppressed.
Is there a sentiment of a cult?
The handsome, Yale-educated, law-degree-holding man was, after all, the youngest general manager in major-league history (28), and he swiftly brought two World Series titles to the long-suffering Red Sox (2004, 2007).
I'm guessing Epstein must've prayed for those mystical World Series titles. And the law degree. And his handsomeness.
When Epstein agreed to take the Cubs job, he knew what he was getting into. And he knew that winning a World Series with the Cubs would make him a miracle-worker, a living Hall of Famer, a god who would loom someday like a giant bronze totem from an ancient time, like the Easter Island statues or Paul Bunyan himself, high above the supplicants at Addison and Clark.
I was not under the impression that a deification ceremony was written into his contract. Sweet deal. I'm guessing it takes place under the direction of the other World Series gods who live in Bunyan's winter home on Easter Island.
Epstein brought in former Boston pals Jed Hoyer and Jason McLeod to be general manager and senior vice president (scouting and player development), respectively — and the group has gone to work to turn the Cubs into something other than the 103-year Marvels of Failure they have become.
(An aside: I would totally start a band called Marvels of Failure.)
After purchasing the team, Ricketts didn't pad the player payroll, but he quickly spent $20 million on the front office. The message was clear: brains and data, not hunches and hopes, win baseball games.
Whoa, WHOA. This entire ride has been miracles, cults, hunches, and hopes. When did brains and data come into play? I think he's saying Ricketts spent $20 million on miracles.
Epstein is one of the early practitioners of sabermetrics, the belief in, and use of, the ability of computers and facts to better formulate a winning club. He was angry that Oakland Athletics general manager Billy Beane, another sabermetrics guy, spilled the beans to Michael Lewis in the book Moneyball.
Computers? Facts? Michael Lewis? Please bring back the mystical miracles.
And yet he told Sports Illustrated that the numbers and the Red Sox' mystical computer program named ''Carmine'' were just a part of the job, not the final answer.
MYSTICAL COMPUTER PROGRAMS. Totally called that.
''The biggest surprise for me as a GM is you spend more time as a psychologist than you think,'' he said. ''A latent injury or a latent psychological injury is behind almost every underperforming player.''

And even HAL from ''2001: A Space Odyssey'' can't read stuff like that.
Well, the HAL 9000 couldn't even get through a verse of "Daisy" before total system failure. Not exactly the ideal model for precise recitation.
And Epstein is left with questions such as: How bad are the Cubs this season?
Bad. Real bad. Like, 71-91 bad. (That's worse than Mets-bad.)
And why can't we just tell fans we're rebuilding for the next three years?
Right, because Cubs fans handle bad news so well.
And Carlos Marmol: Who needs an expensive one-inning closer on a team that won't have many closings to worry about?
Sorry, but if we're going to talk about working miracles with contracts, we start with Alfonso Soriano and go from there.
Cubs fans' devotion to him
What, the sentiment of devotion?
without a game under his Armani belt
Must've picked that up at Yale with his handsomeness.
is profound and nearly fatalistic.
That word, fatalistic. I do not think it means what he thinks he means.
Indeed, if Theo, whose name, again, means ''god'' in Greek, can't do it, what superpower can?
(a) Theo means "god"? Didn't know that. Seems important to the whole "god" argument being put forth.
(b) There are no more superpowers. OK, maybe Bieber.
It's interesting
Doubt it.
that the Cubs' new leadoff man is to be David DeJesus — ''of, from or about'' Jesus, in Spanish — and that DeJesus struggled last season with the Athletics and is looking for a rebirth on the North Side.
The man "of Jesus" is looking for a "rebirth." Just wanted to repeat that in case it came off too subtle on the first go-around.
How about Albert Pujols and Prince Fielder — 550 pounds of sluggers — leaving the National League Central for other teams? That can only help the Cubs.
Actually, what would've helped the Cubs was keeping either Pujols or Fielder in the division and on the Cubs. Theo tried that. He failed (twice). Guess he didn't have his miracle mojo going.
And the fact that in a year, the Houston Astros will be sent off to the American League West, and the Cubs finally — bless you, Bud Selig — will be in a five-team division?
Right? I bet the Cubs love that they'll be giving up 18 of the easiest games they play all season.
Their chances of winning go up just like Moses' did once that sea had been parted.
Fangraphs once charted Moses' Sea-Parting Probablility. It looked like this. (That's right, St. Louis. David Freese is your Moses. Deal with it.)
Is it not all, sort of, biblical? The journey, the potential salvation?
Oh, WE GET IT ALREADY.
Epstein is here for a spell.
Wizardry? Doesn't seem very Christian.
He recently bought a $3.25 million house not far from Wrigley Field and less than a block from cheery veteran pitcher Ryan Dempster.
That miracle money sure comes in handy.
Someday, pilgrims will be able to take a walking tour of all of the Cubs' sacred shrines — the ballpark, the Ernie Banks statue, Murphy's Bleachers, the house on Kenmore Avenue once hit by a mammoth Dave Kingman home run, Theo's sanctuary — and be renourished.
Worst. Walking. Tour. Ever.
Good luck, Theo. It's simple: Turn water into wine, and stand back for the tidal wave.
Q: Are we conflating Jesus and Moses here? A: No one cares anymore.
At least, if nothing else, we now fully understand the Rick Telander Unholy Trifecta: Seeing a smiling Jay Cutler throw an alley-oop pass to Derrick Rose, who dunks on a 10.5-foot rim while the Cubs parade down Michigan Avenue with the World Series trophy in tow.
Problem is, all that would require a miracle.
Faith of the franchise: Theo Epstein is the star attraction [Chicago Sun-Times]