I feel like we get this story four times a year (once for each sport), but let's be dutiful bloggers and tell you about the Colts fan who got sent home from school during a Saints rally. Sigh.
Maurepas High School is only an hour from New Orleans, so it's natural they would do something to support the local team. They relaxed the school uniform policy for Friday's Black And Gold Day, but only for Saints jerseys. Larry Frost wore his Joseph Addai jersey, and had to go home early.
Frost only moved from Indianapolis three years ago, so it's not like he's the usual punk just trying to stir up shit. He's an honest-to-god fifth column in their midst.
You can't offer other people a chance to celebrate their heritage and not offer it to someone else because they like another team," [father] Brandon Frost said.
I didn't know a geographic pro sports team was included in heritage, but the ACLU's involved. (Somehow they sent a letter on Friday afternoon, which would appear to be mere minutes after Frost went home from school. Makes me think this was a planned protest; he's the Rosa Parks of meaningless shit.)
Problem is, Frost's not really in any trouble. The school board says they never told him to go home, just to remove the jersey. The night before his father told him if they gave him hassle, to just come home. So this is all just some overblown mini-tempest, good for filling column inches before the game. Nothing wrong with that.
G/O Media may get a commission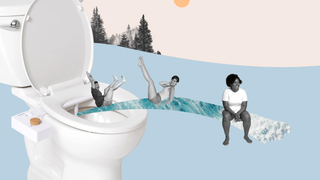 17% off
Tushy 3.0 Warm Water Spa Bidet Attachment
Jersey yields controversy [The Advocate]