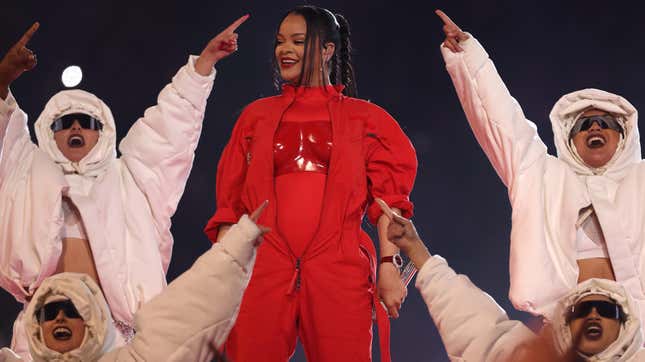 Rihanna stole the show at Super Bowl LVII, even if only for a brief moment, and was trending all over social media, along with A$AP Rocky and a special guest. Just about everyone in the world noticed during Rihanna's performance that she may have been packing a little extra, and we now know that to be true. Riri and Rocky are expecting baby No. 2 less than a year after giving birth to the couple's son last May.

Twitter overreacts to Rihanna's Super Bowl halftime show
Twitter overreacts to Rihanna's Super Bowl halftime show
Rihanna's new 'boo' had the best Super Bowl week — not Patrick Mahomes
From the moment Rihanna hit the levitating platform, there were whispers among all watching. Our own newsroom staff at Deadspin was right on it as our video guy, Andy Mills, was the first to comment that Riri might be pregnant. As the show continued, it became more obvious to the millions watching that another baby bump was fully on display.
With this knowledge, social media exploded and had the couple all over the interwebs. Of course, the Twitter cesspool went at Rihanna for the level of performance delivered even after speculation and subsequent confirmation of her pregnancy.
Some chose to focus on the A$AP half of this Hollywood couple, and in usual Twitter fashion, folks got off their jokes. Drake even got dragged into the fray and caught a couple of strays.
Overall, it wasn't the worst performance ever, and knowing she did it pregnant and factoring in that Rihanna hadn't performed live in ages, I think we can give her a pass. But anytime we get back-to-back jabs at Drake….well, we're all here for that.