Rob Neyer just wrote his last column for ESPN.com, where he had been tucked behind a pay wall*, hidden by whatever fresh pail of water Buster Olney was carrying for the Yankees that day.
Neyer — the gateway drug, in Jonah Keri's apt phrase, for so many internet-era propellerheads — isn't done writing, so there's no need to eulogize him just yet. I'll only say that it's a shame he's leaving ESPN, where his stuff — if you could find it — always stood as a quiet rebuke to a lot of the more, erm, baroque baseball writing in other corners of his shop. Read Neyer's column about Eric Karros from 2004, back when Joe Morgan was still blaming Enron on Billy Beane. There is so much wisdom in here, and it's all brought off in such a breezy way that you hardly notice he's blowing your mind:
You'd be right ... and it's exactly the same with Karros. Well, not exactly the same. Instead of 100 at-bats, we're talking about 307 at-bats for Karros against lefties, over the last three seasons. But in those same three seasons, his OPS against right-handed pitchers, over the course of nearly 1,000 at-bats, is a miserable (for a first baseman) 672.

That 672, we're supposed to just ignore? No, because that 672 also represents Karros' abilities, and not just against right-handed pitching. His 904 OPS against lefties and his 672 against righties are both pieces of the same puzzle, and if you separate one from the other, you'll wind up with an unfinished puzzle. Those 307 at-bats are not, and the 112 at-bats last season are certainly not, enough at-bats to prove that Karros is a special sort of creature with a crazy-big platoon split.

In fact, if every player played enough games — thousands and thousands of games, I mean — eventually all of them would have roughly the same platoon split. There is some evidence that some types of hitters will have slightly larger platoon splits than others, but essentially they're all the same. I know, it sounds crazy. But everyone who's looked at this with any degree of sophistication has come up with the same answer. As James wrote in 1988, "It's innate. You can't get away from it."
This was nominally a column about Eric Karros's platoon spits. It was really an essay about knowledge and epistemology, and it appeared on ESPN.com, if you could find it.
Bo knows Amazing [SweetSpot]
Today was Rob Neyer's last day at ESPN.com [The Will Leitch Shower-Free Experience]
Rob Neyer says goodbye to ESPN [HardballTalk]
G/O Media may get a commission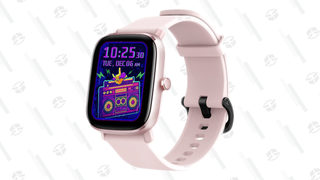 20% Off
Amazfit GTS 2 Mini Smart Watch
Get fit
Has built-in Alexa so you can ask questions and carry your smart assistant around with you; it has a battery that can last up to 14 days, has over 70 different sport modes, is 5ATM waterproof, and tracks stats like your heart rate, calories burned, sleep, and more.
* CORRECTION: Neyer got out from behind the Insider pay wall a few years ago.