Golfer Robert Allenby, whose story of being kidnapped from a Hawaii wine bar, beaten, and dumped in the street sounded too incredible to be true, probably needs to explain why his only witness now says that everything he's claimed is wrong.
The Australian golfer claimed he was abducted from a Waikiki wine bar on Friday night, lured out to a parking lot by a stranger who said his friends were waiting for him. (Allenby later said he believes he was targeted by people "jealous" of his fame.) Allenby says he was beaten, thrown into the trunk of a car, and that he doesn't remember a thing of the next three hours.
"You see this in movies," Allenby, 43, told NBC Sports. "I've watched 'Taken' and 'Taken 2' a few times. It's kind of like a spitting image, but I'm just very thankful that I'm alive."
Allenby says the next thing he remembers, he was being thrown from the car's trunk into a gutter six miles from the Amuse Wine Bar. There, he says, he was discovered by a homeless woman who he says told him she saw several men kicking him, chasing him, and going through his pockets.
G/O Media may get a commission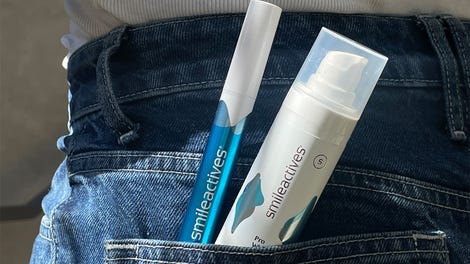 58% off
Whitening Powerhouse Pen & Gel Duo
That's not what happened at all, though, said the woman, Charade Keane, who has given interviews with multiple media outlets in both Hawaii and Allenby's native Australia.
Keane told the Honolulu Star-Advertiser that she found Allenby not six miles away from the wine bar, as he claimed, but just a few yards down the block from it. And she says he wasn't dumped from a car, but sitting on a planter, "bloodied and confused," arguing with two homeless men.
In an interview with Australia's Channel Nine, Keane said she recognized the two men, and that they claimed Allenby had hit his head on a rock. Whereas she first thought the men were helping Allenby, she quickly changed her mind.
"They started arguing when I got up there, and I realized this wasn't well. I need to get him out of here," she said. "I just wanted him to get away because I wasn't sure of the situation. They started arguing again."
According to Keane, Allenby asked her to help get back his phone and wallet, which he believed the men had, and suggested he would withdraw $500 using his one remaining credit card in exchange for his belongings.
"The men told [me] they didn't have his phone but to tell Allenby that they did have it and would give it back if he gave them the money," Keane said. She returned to Allenby with the news, and told him that they needed to leave.

"They were following us, and that felt spooky," she said.
Keane says she came across another man, a military EMT, and he paid to put Allenby in a taxi back to his hotel.
There are a ton of unanswered questions: Why didn't Allenby's friend or his caddie, with whom he was out to dinner at the wine bar, think anything was up when he disappeared for hours while going to the bathroom? Why did Allenby claim the FBI was investigating the alleged his assault, when that wasn't true? ( "The FBI is not investigating this matter whatsoever," a bureau spokesperson said.)
But something did happen. Honolulu police say they have security-camera footage of at least one man using Allenby's credit card to purchase alcohol at a store.
Allenby says the details aren't important.
"It's such a shame that people are focusing on whether the story is true," Allenby said in the texts, according to the Golf Channel. "I say you only have to look at me to see the truth."
In a strange interlude to this story that isn't anywhere near complete, Allenby and Keane were reunited for a local news segment:
"I appreciate what you did for me," Allenby told Keane, before giving her $1000 as a reward.
But that was before Keane starting sharing details that conflicted with Allenby's account. To her latest claims, Allenby alleges that Keane is "getting paid" to smear him.