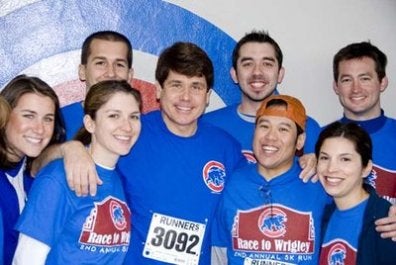 Did former Illinois governor Rod Blagojevich really once give Lou Piniella lineup advice? And more importantly, why didn't Piniella take it?
Here's a copy of a note written by Blogojevich to Piniella on May 31 2007, when the Cubs were off to a dazzling 22-29 start, and in the midst of a six-game losing streak. The P.S. reads: "Have you thought about hitting Soriano third, Lee fourth and Ramirez fifth?"
"I remember getting a letter, and I remember getting some suggestions on the lineup," Piniella told the Chicago Tribune. "I don't remember [Blagojevich wanting] Soriano hitting third and so forth.

"Obviously we didn't heed his advice."
Hmm. I wonder, was that before or after this?
During the call, Blagojevich's wife can be heard in the background telling Blogojevich to tell Deputy Governor A "to hold up that fucking Cubs shit. . . fuck them." ....
Before, I guess.
Blogojevich's wife was probably also yelling in the background as her husband wrote that note. "Tell Piniella to fucking bat Soriano third. He wants to bat leadoff? Fuck that shit ... that leadoff spot is golden ..."
Chicago Cubs Manager Lou Piniella Passed On Rod Blagojevich's Lineup Advice [Chicago Tribune]