A friend of mine pointed out that Mirka Federer, after attending her 30th Grand Slam final, still bothered to record the trophy ceremony for her husband—whose every offhand utterance, let alone metal-hoisting victory speech, is documented by a flickering panopticon of cameras and instantly cemented into Tennis History—on her personal iPhone. She wanted the angle from the player's box. How does she manage to care so much, still? How does Roger, after his record-setting 20th major, still manage to care as much as he does?
How do you manage to still care? If you'd been tuned into the full Year of Roger, and if you've seen him burn right through one of the softest draws he's enjoyed at a major, it might prove difficult to get too worked up about his latest Australian Open victory. Apologies to the millions of frothing, Swiss-flag face-painted fans personally offended by this sentiment, and to the two sets of radiant Federer twins. Your dad is still pretty great.
Possibly my lack of excitement is the real testament to Federer's world-eating talent. What's genuinely shocking is that between last year's Australian Open—which felt miraculous, the best sports event of the year—and this one, he has once again re-established Federer victory as the norm and has made his constant triumph the stupefying backdrop of the men's tour. (He and Nadal both.) That's a remarkable feat for someone who one year ago was returning, at age 35, from a season-ending knee injury; it's a hilarious feat for someone who's been on the receiving end of solemn tennis obituaries for several years now. From the beginning of that extraordinary Australian Open to the end of this ordinary one, Federer has won eight titles and gone 59-5. Those five losses were twice to players outside the top 100, once to tennis's boy prince Alexander Zverev, once to his occasional menace Juan Martin del Potro, and once to a visibly elated David Goffin. He has beaten absolutely everyone else. He has beaten his life partner Nadal four times in a row. Four times he toyed with his bauble Tomas Berdych. He has beaten Grigor Dimitrov and Nick Kyrgios and Stan Wawrinka twice apiece.
And now he has beaten Marin Cilic for the third time in same span, and the second in a Grand Slam final, to win his record 20th major. After his win, which came in five sets but felt only briefly like it was in question, Roger Federer gave a touching speech. This stuff still, evidently, really gets to him. He's not bored of it.
On the other hand, would you be bored if you could still do this? If you could flick meteors off the ground?

If you make a ball go to sleep at will?
If you faced someone who had switched over to looser rackets and began hitting some bone-shattering pace, the best tennis they could muster, and you still coolly foreclosed any possibility of comeback at the top of the fifth set?
G/O Media may get a commission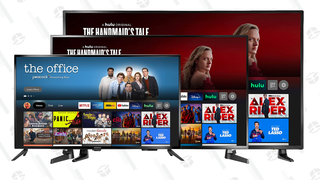 Up to 44% off
Prime Early Access - Insignia Fire TVs
Probably not. Federer's tennis is still rich in its variety, still a far-out exploration of the shots it is possible to improvise, the angles it is possible to achieve on a court. He finds ways to amuse himself.
At the end of his victory speech, when he came around to thanking his team, the familiar screwed-up cry-smile emerged. The tears flowed. The heart warmed. Aside from that hard-fought fourth set by Cilic, nobody gave him much to worry about en route to the title, and he did not have to summon his very best play to win it, and yet this Australian Open still made him feel this way. The emotion is real, but there must be more to this for him. To be honest, this speech was a remarkable display of restraint. He is performing tyranny with grace and humility.
What if Roger Federer played outside a sport with such polite norms, and what if he wasn't specifically such a nice guy? What is his equivalent of Kevin Garnett bellowing stream-of-consciousness after the Celtics' 2008 title? A truly honest Roger Federer speech might look something like:
Young players should be trying to play a little more like me if they want to beat me.

But me at 36 is still better than you at 26.

I'm frankly shocked and grateful that my body has outlasted those of my biggest rivals.

And I probably still won't play clay this season.

But I will never stop playing this game so long as I can keep winning like this, so long as there is nobody healthy or talented enough to stop me.

And who would stop, unless stopped? It's not a bad lifestyle, the one Roger lives.