This is part of an occasional series of slightly belated MLB season previews.
Feel free to take a minute to gather yourself. I realize that being told to root for the Colorado Rockies can have a dizzying effect, similar to what you might feel if I marched up to you and said, "Hey, you know what's good to eat? Dirt." Now that the initial shock has worn off, you're getting ready to close this tab as soon as possible and get back to real life. Don't do that! Hear me out.

Who are the Rockies?
Pretend for a minute that they aren't the Colorado Rockies, a mostly forgettable franchise that nobody outside of Colorado would be sad to see disappear from the face of the earth. Pretend they are the, uh, Philadelphia Rockies, a team with some notable history that plays in a market where people care enough about baseball to boo and start fights.
Now, absorb the following facts: The 2016 Rockies are a top-five team in runs per game, OPS, batting average, and slugging percentage. They have a left side of the infield that has combined for 30 homers and 21 doubles, a lefty right fielder who has one of the sweetest home-run strokes in the game, and a hard-throwing rookie starter who has struck out 49 batters in 45 innings.
That sounds like an at least mildly interesting team, right? It's the kind of team that might make you say things like, "Hey, the Rockies are going to struggle to stay at or above .500 this year, but I tell you what, Todd, that's a fun team to watch," to your good buddy Todd.
What guys should you know?
Nolan Arenado, dog. Did you know that he hit 42 goddamn home runs last year? He supplemented those dingers with 43 doubles, and made a claim for the title of best defensive third baseman in the game. Arenado's just 25 years old, and he seems destined to become one of those cornerstone third baseman in the mold of Adrian Beltre and Scott Rolen. He's my favorite kind of player, because he's a guy who is good for at least one highlight at the plate or in the field each game, and so there's always reason to watch. He has 16 homers and a .287/.358/.590 slash line, and will probably spend the next decade banking 20-40 homers per year and winning Gold Gloves.
Trevor Story! Remember that dude? He's the rookie shortstop who took up the task of replacing Troy Tulowitzki by hitting 10 dingers in the first month of the season. You've seen hot starts like that before, so you may have written Story off as the next Chris Shelton and gotten on with your life as soon as the calendar turned to May.
Well guess what, jerks. Story has pretty much kept things going through the second month of the season. He mashed four more taters in May and posted a .791 OPS in the month. That's a significant drop from the 1.019 OPS he posted in April, but it's not the kind of bottoming out that suggests Story's first month was a complete mirage. He's going to hit some deep valleys throughout the rest of the season because there are some massive holes in his swing and he will hack at anything, but that's also part of the fun. Power-hitting shortstops are all but extinct these days, so it's refreshing to come across one who isn't afraid to swing from his heels.
The other two guys carrying most of the weight in the lineup are Charlie Blackmon and Carlos Gonzalez. Blackmon has a cool beard and came straight off the Solid Leadoff Hitter Who Also Has Some Power assembly line, and Carlos Gonzalez is a guy who can still do this:
Okay, fine, the Rockies have always had guys who can slap the crap out of the baseball. Maybe that's boring to you, because you are a truly evil person, but even if that is the case, I have some good news: The Rockies might have a no-shit ace on their hands. Emphasis on might, but still, get a load of Jon Gray:
Those are highlights from Gray's recent start against the Red Sox, in which he spent 7.1 innings shutting down the best offense in baseball. Gray is a large and strong rookie with a fastball that sits in the upper 90s and one of those wipeout sliders that's allergic to bats. This will be Gray's first full season in the big leagues, and he's had a few ugly starts, but he's also looked like a legitimate blue-chip prospect. Aside from Ubaldo Jimenez in 2010, the Rockies have never really had a pitcher like this to offer. What I'm saying is, if you tune into a Rockies game on a day when Gray is starting, you might see some dingers and a dominant pitching performance. That almost never happens in Colorado. These are exciting times!
One GIF of a Rockies fan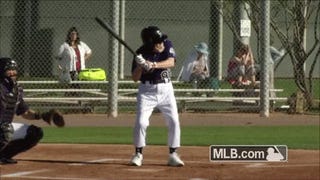 If you see that old Rockies fan on the street, be prepared to meet his hands.
Can they beat the Cardinals?
I mean, nah.
Who has the best baseball chin?
Jon Gray. Always love a good flesh-colored beard.
So are they going to be good?
Depends on how you define "good." The Rockies haven't won more than 75 games since 2010, so any season that doesn't end at the bottom of the toilet can be considered a success. They are currently 24-27, and a .500 season doesn't seem out of the question.
Why should you root for the Rockies?
Because you love the feeling that only comes from watching a strong man with a bat bong a dinger over the fence. This is a team that is capable of hitting seven homers in a single game, and now they have a young pitcher who might actually be able to keep the other team from scoring at will.
You know what else is cool about being a Rockies fan? Absolutely nobody gives a shit if you are one, because the Rockies have never mattered enough for their fans to earn any stereotypes. Imagine how much it must suck to be a not-awful Cardinals fan who constantly has to say things like, "Yes, I am wearing a Cardinals hat. No, I do not have an All Lives Matter banner at home." (Just kidding, there are no not-awful Cardinals fans not related by marriage to Deadspin editor Tim Marchman.)
But you know what happens when I tell people I'm a Rockies fan? Nothing! The conversation moves right along. It's paradise, really. Feel free to join me here.