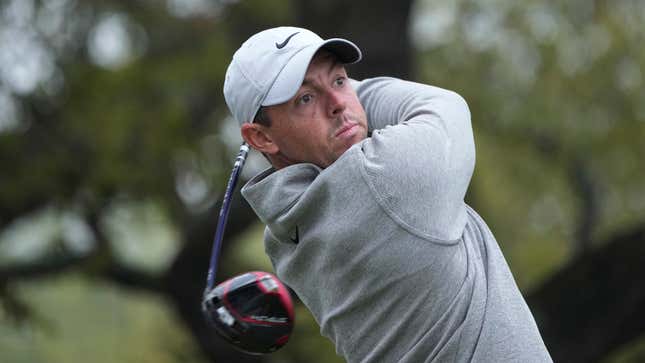 What would you say if I told you that baseball was capping how far a ball can be hit, basketball decided to negate shots over 30 feet, or the NFL limited how far the football can be thrown in the air? Your first reaction would probably be like mine when I read that Rory McIlroy is on board with the USGA's proposal to limit drive distance.
World Series Stats That Will Blow Your Mind
In an appearance on the (ironically named) No Laying Up Podcast, the Northern Ireland golfer said:
"For elite-level play, I really like (the idea). I really do.
"I'm glad in this new proposal that they haven't touched the recreational golfer. I know that's a really unpopular opinion amongst my peers, but I think it's going to help identify who the best players are a bit easier.
"Especially in this era of parity that we've been living in these past couple of decades."
OK, man, whatever you say. We're going to eliminate massive advantages of certain players, and it's going to result in the rise of the next Tiger Woods? What kind of rough are you smoking?
Golf is already one of the most challenging sports to play, and though the scores can go super low, US Open locales still eat the lunch of most elite guys. The audience wants to watch pros do things they can't more than they want to see a tournament where the leader isn't under par, and if everybody is hitting the ball as far as you or I on a windy day and struggling to clear water hazards, too, that appeal is gone. Has no one rewatched Tin Cup recently? The idiocy, my god.
Other pros say rule change tries to fix a problem that isn't there
Jon Rahm and Justin Thomas each aired their views on the proposal, with Rahm asking, "Why change what's working?" and Thomas saying the USGA is "trying to create a solution to a problem that doesn't exist."
I'm not sure if they were fed the same talking points or were mind-melding, but the No. 2- and No. 10-ranked players went on to say it would be bad for the game. Rahm pointed out that it would hurt the less-powerful players who would need a 4- or 5-iron to hit the ball as far as they once did with a 7, while the longer guys like Rahm would have a more distinct advantage because they can still hit the clubs they used to.
That's probably where McIlroy got his line of thinking considering he's leading the PGA in distance off the tee (326 yards). The deadened balls would max out at around 320 yards, but it's not like a governor on a golf cart that immediately hits the brakes once you reach top speed. Everyone would be using the heavy ball, so the move theoretically gives bigger hitters a leg up.
Yet fans won't be compelled by a contrived Jack Nicklaus or a bootleg Tiger. We want an actual successor — which the PGA and USGA are well aware of and freaking out about — but not one that's a product of a rule change.
McIlroy's resuscitated charm back on life support
If you're like me, the constant sniping between the PGA Tour and LIV Golf has grown stale like a rap beef on its seventh diss track. It's the sport's best current rivalry only nothing gets settled on the course, and we're left with McIlroy constantly bitching about Greg Norman because reporters keep asking Rory about LIV, and Rory keeps answering because this is the most attention he's gotten since before fans realized he's the heir apparent to jack shit.
One of the byproducts created by the exodus of talent to the Saudi tour has been the resurgence of McIlroy. He hasn't won a major since 2014, but did earn top eight finishes in all four majors last year, including second at the Masters and third at the Open Championship, and took home the FedEx Cup as well. Is the success because of watered-down competition? Or has his righteousness boosted him on high, soaring with greats once again via the grace of an incorruptible moral compass? I don't know, but the latter answer sounds better in the lede of a story.
While I acknowledge that McIlroy and the rest of the golfers who didn't defect will be on the side of history that didn't readily accept blood money, what's overlooked is the divide started because of the PGA Tour's shitty payment model. The Tour's recent changes are direct responses to LIV, and I don't feel good about either management group even though I feel worse about one more than the other.
That brings me back to McIlroy. I appreciate that he was outspoken about players jumping leagues. It was refreshing to know that not all golfers turn into amoebas when offered absurd amounts of money. However, that's where my affinity stops. I'm good on the sound bites, I'm good on the coverage, and I'm good on Rory. Go win the Masters and give me a reason to listen to you give an interview.