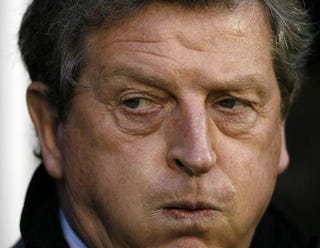 Roy Hodgson was canned today, after a mere, if bleak, six months as Liverpool manager. An "unprecedented" wave of ire from the bleachers forced Hodgson out.
Fans weren't the only ones who thought Hodgson should go. Scott Murray at The Guardian weighs in with one of those gently damning critiques that tend to cling to a man like a class D felony:
Here's a thing about Roy Hodgson. An intelligent man, one of the few football types who knows which way up to hold a book, Hodgson's favourite novelist is JP Donleavy. A grand choice, is that; the Irish-American is one of the 20th century's greatest writers. But Roy's pick from the Donleavy canon – defined by the bona fide 1955 classic The Ginger Man – is a throwaway 1979 effort called Schultz, a novel the author himself would struggle to recall. This is like saying your favourite Shakespeare play is Timon of Athens, or that your favourite Beatles song is PS I Love You. Or that the most dependable left-back in the world is Paul Konchesky. It's not a particularly relevant point, granted. But it is an instructive one. The man's judgment is shot to bits.
And my fellow traveler from World Cup South Africa, a diehard Liverpool supporter known to this site as The Fenian Mob, offered only this about Hodgson: "He was another Fergie lickspittle....He had to go."

"Kenny Dalglish isn't the long-term solution. But he understands Liverpool." [The Guardian]