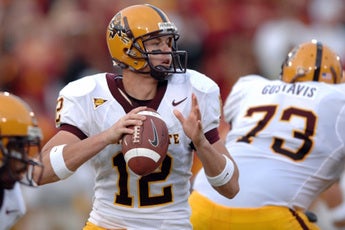 Folks may remember Arizona State quarterback Rudy Carpenter and his preference for not-gay pink shirts. Well, it seems that going psycho at college basketball games isn't enough juice for Rudy, so he took his act on the road—and recently got himself ejected from the gym at a girl's high school basketball game.
Carpenter was at Marcos de Niza High in Tempe on Tuesday to watch a game featuring his girlfriend's sister, and even though the atmosphere doesn't quite match a Pac-10 football game, he and his friends did the best they could to liven things up with a little playful heckling of the referees. It was all good clean fun, until the lead official stopped the game and asked his whole section to leave.
Except between the ejection and the exit doors, multiple sources say Rudy got a little belligerent, a little salty with his language. The scene prompted school officials to call the police (the situation was resolved before the patrol sergeant arrived), and it left some witnesses shaking their heads.

Carpenter vehemently claimed he was an innocent bystander, but would not comment further for the record. He said he was tired of defending himself.
I can see how that would be exhausting. Do you know how much energy it takes to get yourself thrown out of a girl's basketball game?
Bickley: Ejection adds to Rudy's saga [AZ Republic]