For the first time I can remember, Russell Westbrook looked tired tonight.

After leading by double digits throughout most of the game, the Oklahoma City Thunder turned out a wet fart of a fourth quarter and ceded Game 2 to the Rockets, 115-111. They spent most of the game swaggering through Houston, putting James Harden and his teammates on their asses when necessary and doing just enough to free Westbrook to go supernova.
For three quarters, the system worked. Scrubs like Andre Roberson and Victor Oladipo would get the occasional bucket and provide spacing while Westbrook finished every play and tried to dunk his opponents into the core of the earth at every opportunity. The Thunder made their bones this season by being a semi-functional apparatus built for the sole purpose of getting Russ his. This shouldn't work in the playoffs, when teams are more keyed in and ready to punish every deficiency, but when Westbrook is on, it almost doesn't matter. He's too athletic, too ferocious, too much. Here he is, both particle and beam.
And when it all went to shit, Westbrook was right there in the center of that too. He ended up with 51 points, 10 boards, and 13 assists. He also shot 4-for-18 in the fourth quarter; his 14 misses were the most in two decades. Westbrook has owned the clutch this season, but a game's worth of doing it all caught up to him and he turned back into a pumpkin when the game was on the line. As the Rockets inevitably hoisted a barrage of threes and eclipsed OKC toward the end of the game, an increasingly desperate and drained Westbrook continued to step into increasingly more outlandish shots. He routinely looked off open teammates and charged headlong into a the teeth of a defense prepared and waiting for him. It was ugly, grating basketball.
The only thing that looked worse was the Thunder offense during the seven minutes of the game Westbrook spent on the bench. For all the bloated excess of his fourth quarter meltdown, he still finished at +11, while every single Thunder bench player had a negative plus-minus. The Thunder are paying Enes Kanter $17 million a year and he can barely crack their rotation in a playoff series. That's a huge problem. Roberson scored the second-most points for OKC and he spent most of the game with an eight-foot cushion as the Rockets begged him to shoot wide-open jumpers.
G/O Media may get a commission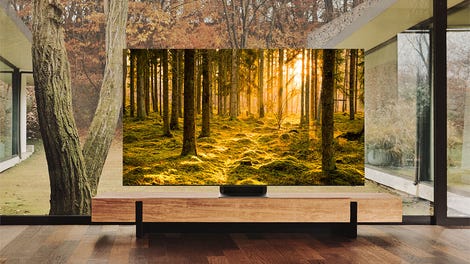 Up to 40% off
Samsung Smart TVs
And that's the central contradiction of the Oklahoma City Thunder. They need Russell Westbrook to be a superhero to win games, but that over-reliance can curdle into the garish nonsense that kneecapped OKC's chances down the stretch. Westbrook will do incredible shit like nail a leaning three while simultaneously yawping about a foul call, and he'll also drive through three dudes, lose the ball, and complain about it instead of getting back on defense. The Thunder have to take the good with the bad; their only other choice is to hand the rock over to guys like Jerami Grant and Taj Gibson, which is not so different from forfeiting.
No saviors are lurking for the Thunder. They will go as far as Westbrook takes them. He will not take them past the Rockets.