Time for your weekly edition of the Deadspin Funbag. Got something on your mind? Email the Funbag. Today, we're covering failed romantic gestures, Oscar stuff, hamburgers and sex, and more.
Your letters:
Steven:
I stumbled across this when wondering who Russell Wilson followed on Twitter. How is this a thing? It seems to be an Austrian company, but the website says it's sold in Albertsons on the West Coast.

From the Product Benefits section of the website: "With its unique shape, Eat the Ball attracts kids, young people and trendsetters. It aims to bring the topic of bread back onto the front pages, and makes bread a cool and exciting topic for our target market."
And somehow, the copy gets even weirder. Look at this!
THE BREAD OF A NEW GENERATION

Thanks to its unique shape, unsurpassed flavor, its all-natural ingredients and extraordinary shelf life, Eat the Ball is making the concept of bread more exciting and interesting than ever.
G/O Media may get a commission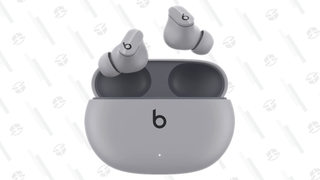 Okay, first of all: Bread doesn't need a new generation. It's bread. It's been around in its current incarnation for many generations already, and all of those generations have loved it. That's how battle-tested bread is.
Secondly, I don't need my bread shaped like a ball. I'm not going to throw the bread; I'm going to eat it. Ball bread adds no valuable functionality for me. And it's not even good bread. Look at how colorless that crust is. Poor crust. I can't imagine anything sadder than wanting bread and biting into a wad of thawed hockey-puck dough.
Our Tim Burke would also like to note that Eat the Ball (and strangely, they call the ball-bread Eat the Ball at all times, as in, "I had an Eat the Ball for lunch, because I live outside a dumpster") is the primary sponsor for the NFL broadcasts in Austria. See for yourself!
Look at them throwing the ball-bread around! That's just what Terry, Howie, and Jimmy would do! It's almost comforting to know that Austrian pregame shows are just as terrible as our own.
Anyway, this whole ball-bread incident just solidifies the idea that Russell Wilson is a fucking weirdo: a blank canvas of a human being for random Austrian novelty bakers to paint their brand all over. I bet when Russell Wilson is on airplanes, he just stares at the seatback in front of him for the whole trip. I don't trust him.
Jeff:
If you could have one person wipe your arse for the rest of your life, who would it be, and why? Would you choose someone you hate as a punishment? Or someone you'd enjoy the company of so that it would be an enjoyable experience, or maybe an attractive male/female to get some kind of kick out of it? I'd go for Piers Morgan, and it wouldn't be for the conversation or sexual kicks.
I'm assuming that I can't pick my wife, right? Because she'd obviously be my first choice. Hell, that's one of the presumed benefits of marriage: ensuring that someone will be there to wipe your ass for you if you become old and incontinent. That's been noted so often that it's somehow a cliché at this point. They could put it in the vows! "Do you solemnly swear to be ready with the Charmin and a box of baby wipes?"
Wiping your ass is an EXTREMELY intimate act. You want someone back there who won't make you feel awkward and embarrassed about it, or more awkward and embarrassed than you already are. That's why it's always best if a spouse or a parent does it for you (it's not like your parents haven't handled that duty in the past). Someone in your family. Someone who has already witnessed you in every possible embarrassing situation. That's the whole benefit to being in a family: They can be highly annoying, but at least they can offer you some measure of comfort and dignity and familiarity when you badly need it. Like when you have a load in your sanitary napkin.
If I can't assign a family member to that task, then here is my list of preferred anal custodians:
1. Any nurse
2. Any doctor
3. My best friend, specifically so that I could trick him and poop into his face at least once a month
4. Bill Clinton. They say he can make anyone he meets feel special!
5. Sir Patrick Stewart
6. Anna Kendrick
7. Louis CK
8. Kanye. He could get a whole album out of my ass.
9. Bill Belichick
You don't REALLY want to assign a butt-wiper hatefully. It would be awkward, and only they can see if your ass is clean. You want them to get that asshole clean, man. DO YOUR JOB, BELICHICK.
Dan:
Sunday night, Sean Penn made a questionable-at-best comment when he announced the Best Picture Oscar being awarded to Birdman. But what would have happened if he had taken it one step further and decided he wasn't going to give Alejandro González Iñárritu his second statue of the night, and had announced Boyhood, the other top contender, instead? The Best Picture and Best Director awards were split as recently as last year, so none of the viewers would have immediately questioned it. Do they have a PWC dude standing offstage with a backup copy of the envelope, ready to race onto the stage to correct any miscarriages of justice? Do they hope that the winner glances at the envelope when he or she gets to the stage, and hope that they are honest enough to hand over the award? I'm curious as to how long it would take for the real winner to be known.
There's an old urban legend that Jack Palance fucked up in 1992 and gave Marisa Tomei her Oscar for My Cousin Vinny by accident because he read the name on the card wrong, which I don't believe at all, because Tomei was good in that movie and was perfectly deserving of the award. Anyway, if a presenter ever DID go rogue, I think they would correct it right away, because the evidence is right there on the card, and someone would figure out the conspiracy eventually. There's no time to burn the card and offer the actual winner a cool $200,000 in hush money. Someone would notice, especially IN THIS MEDIA AGE (any implicit warning about the surveillance culture of Twitter and blogs and camera phones can be tidily packed into that phrase). You're not getting away with it, especially if you're Sean Penn, and the natural world already considers you an intolerable human being.
Anyway, no presenter has ever done this or ever will (CRIMINY), because actors are too insecure and too needy to ever burn bridges with the rest of the "community" like that. (It's hilarious whenever actors and directors and writers refer to the entertainment industry as a "community." They're all freelancers! None of them hang out together! They'd fucking burn each other alive if it got them more camera time!) You may think you're gonna be a rebel and announce any movie you like for Best Picture—and then whip your dick out and piss on a seat-filler (this is what I daydream about every time I watch the Oscars)—but then the moment comes, and millions of people are watching you, and a tiny voice in your head screams, "Dude, just read the fucking card." And you do. The moment will always beat you.
Greg:
What's better? The best burger you've ever had, or the worst sex you've ever had? By better, I mean brought you more pleasure.
Oh, the burger! Not even close, really. I mean, bad sex can really fuck with your head. What did I do wrong? Is she mad at me? Maybe I shouldn't have busted out that syrup bottle. A good burger comes with none of those emotional complications. Hell, the burger might beat the BEST sex I've ever had. I mean, when you get a really good burger, and it's all salty and juicy and the bacon's falling into the little sauce puddle on the wrapper, and you pick it up and stuff it back into the burger and then eat it before it falls out again … that's a really nice moment. And the cleanup is easier. And there's no talking after you're done. Pretty high up there in the life-experience rankings, if you ask me. I have three kids, and any chance I have to enjoy a burger alone, with no one else around … I can't begin to describe the ecstasy of it.
Steve:
What amount of time are you obligated to wait before throwing away a Christmas/birthday/thank-you/graduation card? If someone hands me a card, I open it, read it, smile, and pocket the accompanying item of actual value (cash or gift card, generally), but then I have to hang onto the card until the person who gave it to me is out of sight.
Sounds about right. For birthday cards, my family puts them up on a shelf until the birthday process is over, and then we throw the fuckers away once a day or two has elapsed. It's a Hallmark card, not a letter from a World War I soldier. It isn't meant to be a preserved correspondence. If you want to send a truly meaningful message to someone, you forgo the card altogether.
By the way, it's amazing how much copy is inside some of these cards. I went to buy a birthday card for my mom a while back, and there were PARAGRAPHS of copy inside each card at the supermarket. Just put HAPPY BIRTHDAY inside, Big Card. I don't need you putting all these words in my mouth.
Greg:
So ever since the Fourth of July of last year, I've slowly put on a few pounds. During the work week, I do a good job of going to the gym and eating well, but during the weekend, watch out. It's gotten to a point where there are workout shirts I wore over the summer that are now getting pretty tight. I have a larger set of shirts, but I feel that if I start to wear those, it's a slippery slope to where I'll feel no pressure because those fit me, and I won't change my habit. I know I need to get back to where I was, and thus, I've decided to reverse-fat-shame myself. I will continue to wear the smaller, tighter shirts while working out as motivation to get back into fitting in them, and rejecting the allure of big workout shirts. Do you think this is a good idea?
In principle, yes. I have yoyo-ed when it comes to weight loss, and I have kept the tight clothes around as an incentive, simply because I can't bear the thought of disposing of them and admitting that I will never recover. Those clothes are a symbol of HOPE.
But, in practice, walking around in ill-fitting clothes is horrible for both your comfort level and your self-confidence. It's a constant reminder that you aren't succeeding in slimming back down, and that can make you feel defeated, and then it only gets worse from there. You are always better off rocking clothes that fit you as you currently are and make you look good. That makes you more comfortable and more confident, and if you end up losing weight, then buying new skinny-ass clothes is a fucking joy. No one has ever regretted paying for smaller clothing, ever. Work out in larger shirts. No baggy shit that's loose all over, but shit that really fits you.
HALFTIME!
Henry:
When I let a fart go at work or in public, and fear somebody might catch a whiff, I blow in the area where I think the fart cloud is. Ya know, to either move the stink cloud by airflow or at least dilute the stink. Does this work?
No, but hey, if it makes you feel better, go for it. Who knows what kind of placebo effect blowing a fart will have on your social paranoia?
I have tried manipulating farts by hand as well. I have fanned the front of my ass to send the fart out to friends. I have shaken the comforter to rid the room of any and all dutch-oven fumes. In all of those cases, I have a 100-percent failure rate. The fart went wherever it wanted to go. I never got away with anything. I AM NOT A MASTER OF AIR. Air will disperse faster than you can contain it. Even if you fart into a box and then send that box to someone, the fart escapes. Farts are smarter than you.
Bryant:
Everyone loves to shit on Roger Goodell for just being a puppet that takes flak for the owners, but for $44.2 million a year, that sounds like a fucking sweet deal. How much money would you have to get paid in one lump sum to just be a completely despised public figure (like on par with Beiber) without the gift of obliviousness for life?
I'd say $10 million would do the trick. They call it FUCK YOU money for a reason, you know. It's the amount of money you need to burn every bridge comfortably. If I have enough money to support my family and live a life of excess until the day I die, I'd be perfectly fine with being America's punching bag. That's probably why Roger Goodell can sit there and tell you, with a straight face, that he thinks he's doing an awesome job and will never, ever resign. He's got enough money to say that. I'd say $44 million gets you lifetime immunity from giving a shit what other people think. Strangely enough, it also empowers you to go make MORE fuck-you money, because you are no longer concerned about being polite when it comes to your naked, repulsive ambition.
This is why we have to TAKE Roger Goodell's money. If we steal it all, then our words will hurt him. IT'S NOT THAT CRAZY OF A PLAN, FOLKS!
Derek:
What would the offer be from the Cardinals to Denver for them to deal Peyton Manning right now?
I don't know that Peyton Manning is a tradable asset right now, because his cap number for 2015 is $21.5 million. It's the same reason the Colts had to release Manning outright back when his neck was all fucked up. His cap number was too large, AND people thought his career might be over. No one could or would trade for him, which is stunning in retrospect.
In a way, the Broncos are now in the exact same spot the Colts were at the time, only they don't have the luxury of drafting Andrew Luck as an alternative. Barring salary-cap issues, a quickly deteriorating Peyton Manning on the open market would probably fetch a second-round pick. That's about the going rate for a two-year GLORY BOY rental.
Frankly, it would be more fun if he DID go to Arizona. I don't wanna see the Thomases flee Denver and watch as Peyton's career comes to a painful, ignominious end under Gary Kubiak. I usually enjoy watching Peyton Manning suffer, but not like that.
Matthew:
How long do you think it would take for an individual to navigate and click through all of the viewable roads in the USA via Google Maps street view? My best guess is at least two weeks. I have tried clicking through street view before, and it takes up a TON of time. Imagine clicking through hour after hour of desolate roads in the middle of nowhere. Or navigating through a high-density city and all of the through streets, too.
According to this website, there are over four million miles of roads in the United States, including Alaska and Hawaii. What's one click in Google street view get you, distance-wise? A quarter mile? That's a million clicks (CORRECTION: Sixteen million. I am a fucking moron.), minus all the clicks you gotta do for turns and dragging the cursor to figure out where the fuck you "are." I timed myself with a stopwatch and clicked seven clicks a second. That equates to roughly forty pure hours (CORRECTION: 640 hours!) of nonstop clicking.
But of course, you can't do that. You'd kill yourself by the second hour and lose a finger by the third. I went house-scouting a few times using street view to make sure certain real-estate listings weren't located next to a KFC grease dumpster (they all were), and I could only tolerate navigating the neighborhood in street view a few clicks at a time. After that, I had a fucking headache.
So while it might only take you "two days" to cover every street in America that way, the real answer is NEVER. You'll never finish the task. I'd rather go to prison for two days.
Taylor:
If NBA players were allowed to score directly off the inbounds pass without anyone touching it, how many teams do you think would just shoot and how often? Keep in mind, there would still be probably a big guy guarding the inbound, and you can't move your feet.
That should be legal, if only so I can watch JR Smith demand to take every inbounds pass. Anyway, I don't think any team would exploit this rule UNTIL the very end of a game, with less than a second on the clock and the chances of executing a catch-and-shoot are unlikely. That's when you take the inbounds shot from the sideline. Or you do it at random times when the defense is slacking off and not covering it the way they ought to. It would be like a fake punt.
In general, I am in favor of NBA players taking longer, more difficult shots. Anything that gives them incentive to shoot from half court or from way out of bounds, I'm in favor of it. The end of every quarter is the favorite part of any NBA game for me.
Michael:
How many naked women do you think I've seen in my life? I'm 36 and have had internet access for about 20 years. Over/under 100,000?
I'd say under, but it depends on if you're, like, REALLY into porn or not. The standard porn addict probably rifles through a hundred new naked people a day, because he's searching for some elusive new breed of human being that can get him off the best, and he will die searching for this alien-tit-demon prototype. But if you're just a regular fellow who possesses a modicum of restraint and you see a couple of new naked people every day, that's only about 15,000 naked people in your memory bank. However, that's just online! I'm not counting TV and movies. Oh, and real people. Once in a blue moon, you see a real woman naked. Not very often, but sometimes! Call it 40,000 naked women just to be safe. You are a pervert.
Andrew:
What if NFL sidelines had a buffet of sponsored food and beverages? Wouldn't it be the pinnacle of the American spirit if, during those long reviews, they could cut to the sidelines to see what the O-linemen are snacking on? You'd have a decadent spread of crunch-wrap supremes, Whoppers, buckets of chicken, Papa John HIMSELF dishing out slices of pie, a gigantic Mountain Dew fountain at the end there …
But then all the players would throw up during the games, which … would be kinda awesome, actually. I'd be fine with that. Anyway, there's a reason you don't see O-linemen wolfing down pizza in the Cool Zone, and that is because they would die on the field from cramping and heartburn. There is a time and place for pizza, and that is not it. Also, anyone who indulged at the buffet would be subjected to mass scrutiny from fans and media members who do not approve of such things. Remember when Barry Switzer ate a hot dog at the Pro Bowl? People were livid. And that was the Pro Bowl!
You can take something seriously and eat a hot dog at the same time. I don't know why people would think otherwise. Look at the famous Bin Laden raid photo. People were drinking stuff. What if Hillary had busted out a bag of Fritos during the kill shot? I'd be okay with that.
Email of the week. Prepare yourself emotionally for this:
Michael:
It was fall of 2001, I was a senior in HS, and my girlfriend at the time was starting her freshman in college. She had a younger brother, a sophomore, we both played on the varsity baseball team. She was going to a university about two hours away, and we were dealing with a new "long-distance" relationship. It was the worst heartache I've ever experienced, and it was already a disaster: dealing with raging jealousy about what she was doing every night, staying on the phone for hours each night, AIM all day, constantly crying for both of us, etc.

Anyway, she had mentioned a new friend of hers at school, some girl in the same situation as us, with a boyfriend back home still in high school. She had received a really nice bouquet of flowers and chocolates and whatever else from him, asking her to be his homecoming date that year. Cheesy as hell, I thought, but my girlfriend thought it was the sweetest thing. So I decided I had to top it.

I started researching, asking friends for romantic ideas (this was before Google could have told me what a moron I was), and I have no idea who came up with this or where he got it from, but I thought it was brilliant. I enlisted her brother's help and was able to set it up.

I went over Saturday morning to their family's house. I had bought like six big bags of Hershey Kisses and two dozen roses from the Giant by her house. The parents were gone for the weekend, and her brother let me in to get everything ready. He drove to pick his sister up from school—her being a freshman and all she didn't have a car. This gave me four and a half hours or so to get the house ready. I started at the front door, placing dozens of Hershey kisses strategically on the floor throughout their hallway, leading through the living room, down the stairs, and into her room in the basement. I led the path of chocolate into her bathroom, where I scattered the petals from one of the bouquets all over the sink, floor, and tub, and placed the second dozen in a vase on her nightstand. I lit a bunch of Yankee candles I had picked up that I knew she loved, and placed them all over her room and bathroom, and finally on the shelf in her shower placed a cheesy lovey-dovey card that stated "Now that I've kissed the ground you walk on and showered you with flowers, will you go to Homecoming with me?" I assumed after seeing this romantic setup straight out of a Nicholas Sparks novel (so I thought, anyway) and reading the card, her panties would literally melt off her body and we would have a weekend alone of sweet, sweet lovemaking.

Now would be the time to mention that the one thing she loved more than myself, or really anything at this point in her life, was her dog, a pomeranian/poodle mix named Sparky. It was fine as far as small ankle-biters are concerned—we got along alright— but to her, that dog was like Jesus and Fergie had reincarnated into a five-pound bag of fur and annoying yelps. Her brother had put him into his little carrier cage when he left, but apparently Sparky was pretty good at pushing onto the front of the cage and popping out the locking mechanism when left alone for too long.

This is not something I was aware of.

After everything was set up, maybe an hour and a half or so after I had arrived, I took off and headed to a friend's house nearby to hang out and wait for the inevitable phone call that would lead to sweet, sweet sexy time for the foreseeable future. I had been there a few hours when I started to get worried, I hadn't heard from my girlfriend or her brother in a while, and they should have been back by now. I thought about driving by, but didn't want to ruin any of the surprise by showing up before they were back. I waited it out another 20 minutes or so: Still no contact with either. Finally, I decided to go back to their house and see if they had shown up. Maybe she hated it; maybe she didn't really like all the silly romantic stuff I had been led to believe.

I pulled up to their house and saw her brother's car in the driveway, and can still feel that sensation of exhilaration at blowing her mind with my romantic gesture combined with fear that I was about to be dumped because of the same thing. Nothing in my life could have prepared me for the horror scene that was behind the front door.

As I pushed through through the front door, the first thing I noticed what seemed like thousands of shards of silver paper scattered throughout the hallway and streaks of chocolate in the carpet. I could hear screaming and crying coming through my girlfriend's room as I walked slowly downstairs trying to comprehend what could have possibly happened. I pushed open her door and saw what looked like a crime scene. There was dog diarrhea covering pretty much what seemed like every inch of her room, on the carpet, the bed, and even on the walls. I could see blood mixed in with the severe vomiting that Sparky had been spraying throughout the room, and my girlfriend sitting on the bed squeezing her dead dog against her chest.

Apparently, she had gotten home just as he was having some sort of doggy heart attack after CRUSHING all the chocolate candies I had laid out, and was having violent seizures on her bed. I learned later from her brother that she had been screaming for him to call the vet and that the dog died in her arms. The rest of that day is still blurry. I do vaguely remember crying uncontrollably and pleading with every fiber of my being for any morsel of forgiveness, but it was over. Her brother ended up taking her to the hospital due to how understandably hysterical she was, and I did everything in my power to try and clean up this obscene mess. I did what I could, but ended up having to pay to have the carpets and bed set replaced, which destroyed my savings, meager as they were from my allowance and working that summer.

Since that day, I have never been very good around pets. I'm married with a 13-month-old son and dread the day he wants to get a puppy. I am beyond terrified of leaving any type of chocolate unattended in proximity to dogs, and still have nightmares about what happened that day.

And no, she didn't go to homecoming with me. I'm not sure she ever even read the card, and the following spring baseball season, her brother opted for lacrosse.
---
Drew Magary writes for Deadspin. He's also a correspondent for GQ. Follow him on Twitter @drewmagary and email him at drew@deadspin.com. You can also order Drew's book, Someone Could Get Hurt, through his homepage.
Art by Sam Woolley.
The Concourse is Deadspin's home for culture/food/whatever coverage. Follow us on Twitter.