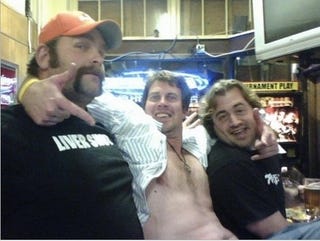 Ryan Leaf, having long ago surpassed the vaunted trifecta of failure, has just signed a three-part book deal. The CougFan.com columnist and former NFL player will write three books about the greatest tale of human tragedy known to sports: Ryan Leaf.
Leaf signed a contract with Crimson Oak Publishing after CEO Erik Johnson read one of his September columns and found it to be "illuminating, heartbreaking and compelling," and thus worthy of three separate books focused on three separate periods of Leaf's life. With these books, Leaf will "set the record straight." Three separate times.
The first installment, due out in October 2011, will be a fun tell-all of Leaf's time at Washington State University. The book will "put a light on the powerful stories, colorful characters and some of the shenanigans" of college football. Perfect for the beach! Book two will be very Deathly Hollows; in it, Leaf will describe the "inspirational battle with and victory over prescription painkillers and the demons of self-doubt that haunted [Leaf] since his once-promising pro career came undone at age 26." And the third in this opus will present a "broader biography on the triumphs, trials and tribulations of a life lived much in the public eye," perhaps including ditties such as as this, this, and this. Hope he gives Deadspin credit for the helpful cataloging.
Who says the publishing world is dead? If you're like me, and you did all of your Christmas shopping in a blacked-out online rush this afternoon, then you can at least look forward to the perfect gift for 2011: it could be called I Was Once Carried In The Arms of Cheerleaders, and that alone should make you weep.
Ryan Leaf signs trifecta of a book deal [CougFan.com]