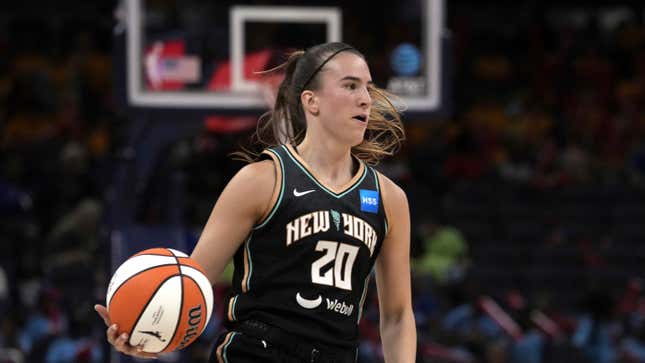 Being a superstar is the lone requirement for receiving superstar treatment — like being on the cover of a video game. Well, that's unless the league you play in has always been Black, and your whiteness has been hijacked as a marketing tool — providing you with superstar treatment when you aren't a superstar.
Is Domantas Sabonis at fault for the Draymond stomp? | Agree to Disagree
When the 2023 WNBA All-Star Game takes place in Las Vegas on Saturday, none of the 10 women who will be on the floor to start the game are the faces you'll recognize as the W's cover athlete for NBA 2K 24. In a game in which 90 percent of the starters are Black, the game decided to go with Sabrina Ionescu — a reserve on Team Stewart.
"Sabrina's ascendance has been an absolute joy to watch, as she continues to showcase her skills on a nightly basis," said Melissa Bell, Global Chief Marketing Officer at 2K. "As one of the next generation of WNBA stars, Sabrina has proven to be a major influencer and driver for growing women's basketball and the WNBA. We couldn't be more delighted to have her as this year's NBA 2K24 WNBA Edition cover athlete."
This isn't a knock on Ionescu — who is a really good basketball player. She's a two-time All-Star, was all WNBA last season, and was a college legend as she became the NCAA's all-time triple-doubles leader at Oregon. She's on the rise, but her resume hasn't met the precedent that was set for a WNBA player to be on a 2K cover. The last three women to grace the cover were Candace Parker, Sue Bird, and Diana Taurasi — three women that changed the game and are first-ballot Hall of Famers.

Ionescu isn't even the first option on her team. Breanna Stewart is the franchise player for the New York Liberty.

At the heart of this matter is two things: The WNBA's continued desire to have white stars who can carry the league to a "softer" and more "All-American" image, and America's affinity for preferring their women's basketball players to have blonde hair and blue eyes.

There's a reason why Iowa had so many "new" fans during their March Madness run to the National Championship Game behind the skills of Caitlin Clark.

The lack of fanfare around Team USA's women's basketball is purely based on race. It's the only reason why more Americans aren't ecstatic about having one of the most dominant teams in Olympic history, especially at a time in which the game is growing in popularity. That's why a nerve was struck when A'Ja Wilson claimed that the Las Vegas Aces didn't receive an invite from the White House. If Brittney Griner, and the majority of the WNBA, were white, there wouldn't be a debate over why they aren't flying charter — it would have gotten done years ago.

While not always intentional, these are the instances and microaggressions that Black people and players have to deal with. The blame isn't on Ionescu for being on the cover of a video game, but you also can't blame some of the Black players in the league if they feel a way about it, given the number of Black women who are better than her who were probably never in consideration.

"With the light that I have now as a White woman who leads a Black-led sport and celebrated here, I want to shed a light on Black women," said UConn star Paige Bueckers when she was named the best college athlete in women's sports at the 2021 ESPYS, as she mentioned that at the time 80 percent of the WNBA's postseason awards were won by Black players, but that they received half the amount of coverage of the White athletes.
"They don't get the media coverage that they deserve. They've given so much to the sport, the community, and society as a whole and their value is undeniable," she added.

"I think it's time for change. Sports media holds the key to storylines. Sports media and sponsors tell us who is valuable, and you have told the world that I mattered today, and everyone who voted, thank you. But I think we should use this power together to also celebrate Black women."

Of the 23 women that were selected as All-Stars, 18 of them are Black. But yet, a woman who will be coming off the bench on Saturday is the one who got to be on the cover of a video game. This is what white privilege looks like — getting to be on all the posters when you aren't the one scoring all the points.