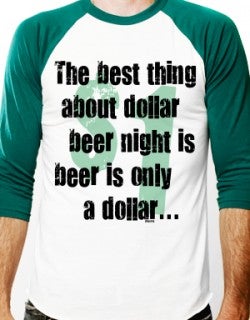 The Sacramento NBA team will be appearing on ESPN (national television!) for the first time in two years next week, and they want to make their return extra-super special. How to do that? A packed house of stone cold drunks.
The Kings performance this season has been fine, but their attendance to date has been, shall we say, sub-par. The last thing they want is for ESPN viewers to see thousands of empty seats during such a monumental game. (What would Joe M. of Middlebury, CT, think if he saw that?) So they're breaking out the one sure-fire standby that never fails to put butts in the seats. One-dollar beers for all the fans 21-and-over in attendance. And lo, bankruptcy was averted. There is no possible downside to this.
The promotion only lasts until halftime though, so hit the concession stands early and often. I want to see happy faces when those ESPN cameras catch you making an awkward pass at your friend's wife during the t-shirt launches.
Kings-Wizards Game on Dec. 16 Will Feature Dollar Beer Night at ARCO Arena [NBA.com]
The Sacramento Kings Have a Foolproof Way of Putting (Drunk) Asses in the Seats [The Last Angry Fan]
Kings-Wizards game to feature 'Dollar Beer Night' at ARCO [Ball Don't Lie]
[Photo via]