87-year-old Saints owner Tom Benson has been at the NFL meetings in Phoenix this week, moving around with a walker and attending meetings with his wife and soon-to-be-owner Gayle. For the first time since having a lawsuit filed against him by his jilted heirs—one that accused Gayle of manipulating a mentally feeble Benson into willing ownership of the Saints to her instead of his children and grandchildren—Benson spoke to reporters and addressed the shit storm that's been swirling around his ownership of the team.
Benson didn't get into any specifics about the lawsuit or the accusations that he no longer has all his marbles, but he did have this to say (via the New Orleans Advocate):
Benson said what's going on pains him, and he admitted the decision was difficult. It was not what was originally planned, but he felt it was necessary to ensure the long-term health of both sports franchises.

"In life, you're going to have a lot of problems," Benson said. "Everybody's got problems. Some worse than others. Some are sickness. Some are like me. You got problems you don't like that come up, but you got to handle them.

"The person that lets them get you down, any kind of problem, is the kind of person who fades out. You have to be strong enough, you don't like it, but you got to be strong enough to accept what's going on and are you going to fight it or whatever it takes to overcome this matter."
Benson was described as "relaxed and coherent" in the Advocate's write up, and reporter Nick Underhill underscored Benson's sharpness after the meeting:
G/O Media may get a commission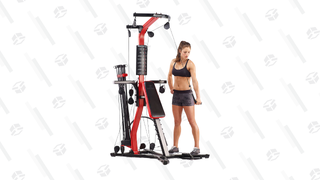 31% Off
Bowflex PR3000 Home Gym
The Advocate also reports that Gayle Benson has been sticking close to her husband at all the meetings he's attended, even getting special permission from the NFL to be the Saints' fourth representative at a competition committee meeting, so that she can learn the ins and outs of owning an NFL team. Benson expressed full confidence in his wife's ability to run the team when he is gone:
"It's great. We got married about 10 years ago," Benson said. "Before that, she was in business. It's nothing new to her. Not like somebody that was never in business. She knows the difference, you have to make profit against a loss."
A competent public appearance like this one should certainly help Benson defend himself against the lawsuit brought against him by his family, but it's likely that nothing in the case will be decided until the results of his court-ordered mental evaluation, which may still be a few weeks away from being completed, is finished.