San Francisco 35, St. Louis 11: The 49ers' 1-2 start to this season was a bit of a shock, considering their baffling turd of a home game facing the Colts, but San Francisco looked much better on short rest against the Rams, cruising despite Patrick Willis and Nnamdi Asomugha sitting out. And now they can enjoy a long week of rest.
The first points of the game came from this Greg "Greg The Leg" Zuerlein field goal that bounced off of the upright and in. He didn't call "bank," but they counted it anyway.
Donte Whitner missed an easy interception earlier in the game, but he caught this much more difficult tipped pass in the second quarter. It was Sam Bradford's first career interception against the 49ers, somehow.
G/O Media may get a commission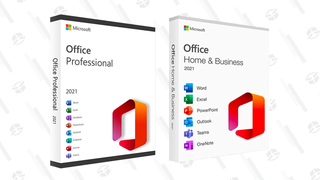 89% off
Microsoft Office Professional 2021 Lifetime License
On fourth and inches, the Rams went with an all-out blitz, and holy shit, did it not work. It was exceptional in its ineffectiveness. The Rams knew the 49ers were running, stacked the line and still fucked it up. Frank Gore found a hole and easily ran for the touchdown while Janoris Jenkins trailed uselessly, looking like the dumbass who missed his assignment. It wasn't your fault, Janoris. Gore torched St. Louis tonight, running for 153 yards and a touchdown on 20 attempts.
Right before halftime, the 49ers' Phil Dawson attempted a 71-yard fair catch kick, the first one attempted since 2008. Neat! It did not work.
After the half, San Francisco opened the game up, scoring the only points of the third quarter on a Kaepernick-to-Vernon Davis pass. The Rams finally scored a touchdown in the fourth quarter when Bradford threw to Lance Kendricks for six, but the game was already over. San Francisco's run defense was back to form after being torched last Sunday by Ahmad Bradshaw and Trent Richardson; they allowed 18 rushing yards by the Rams. Kaepernick lost a fumble, but he otherwise looked fine, throwing for two touchdowns and 167 yards. Kap only attempted 23 passes, though, mainly because the run game was working so well. For the most part, however, this Thursday night game was ugly and uninteresting if you weren't a 49ers fan.